Beer giant Heineken said it will ship more than one million cans of water to survivors of the earthquake that struck central Mexico, killing more than 200 people and toppling dozens of buildings in the capital, Mexico City.
The Red Stripe maker said its Orizaba plant, in southern Mexico, will suspend normal production to ship water cans and bottles to areas that were hit by the 7.1 magnitude quake on Tuesday (19 September).
The epicentre of the quake was near Atencingo in Puebla state, about 120km (75 miles) from Mexico City, with a depth of 51km, the US Geological Survey said.
Heineken said the aid will be sent to Mexico City, and surrounding regions such as Puebla, Morelos and Oaxaca, with the help of Civil Protection forces.
In a tweet the firm said its "plant in Orizaba will exclusively produce + 1 million cans of water to send" to the affected regions in the south of the Latin America country.
The tremor has left hundreds injured throughout the region, and as many as 44 buildings have collapsed in Mexico City, according to Mayor Miguel Angel Mancera.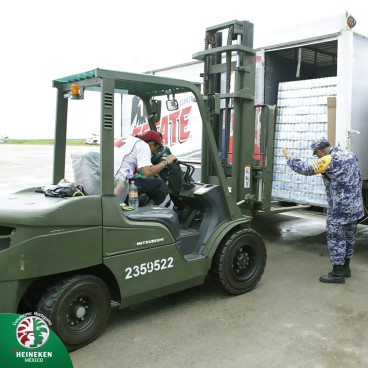 The death toll includes at least 21 children and five adults who died when the Enrique Rébsamen primary school, in Mexico City's southern Coapa district, collapsed.
However, Mexico City authorities kept hopes alive on Wednesday (20 September), when it said that 52 people had been rescued from collapsed buildings so far.
Other firms have joined the aid effort with Mexican dairy business Lala saying it will donate one million litres of milk to victims. Swiss food and drink giant Nestlé will deliver 300 tons of food to affected regions.
Banks have temporarily suspended ATM charges, while US social media company Facebook has donated $1m to the Red Cross in Mexico to help rebuild areas that were decimated by the natural disaster.
Mexico is prone to earthquakes and earlier this month a larger 8.1 magnitude tremor in the south left at least 90 dead.