An advanced computer chip capable of projecting three-dimensional holograms from a smartphone has been developed by computer scientists, designed to display videos and images without the need for 3D glasses.
Ostendo Technologies, the California-based company behind the technology, has so far received over $120 million (£72 million) in funding in order to develop and bring the chip to market, which it hopes to do so by next year.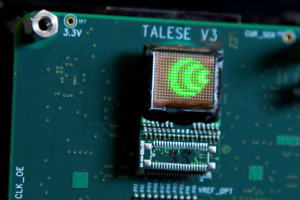 At only 0.5cm<sup>3 in size the chip is small enough to fit inside a smartphone, while other versions can be integrated into televisions. Ostendo predicts that each chipset will cost around $30.
"Display is the last frontier," Hussein El-Ghoroury, founder and chief executive of Ostendo, told the Wall Street Journal in a recent profile. "Over the years, processing power has improved and networks have more bandwidth, but what is missing is comparable advancement in display.
"Imagine if everything coming back to you was in 3D - all of your shopping, all of your gaming, every way you retrieve data."
Interest in 3D technology could grow later then year when Amazon's smartphone is launched which is expected to have hardware-assisted 3D effects.
Unlike Ostendo, however, Amazon's phone would be incapable of projecting 3D images.
Projectors used to display floating images in the past, such as Tupac Shakur's posthumous appearance at Coachella festival in 2012, relied on a system of large machines and mirrors.
The size of Ostendo's chip means that El-Ghoroury hopes it can be used in even smaller devices like smartwatches and other wearable technology in the future.