COP21: Pope Francis joins empty shoe protest against banned Paris march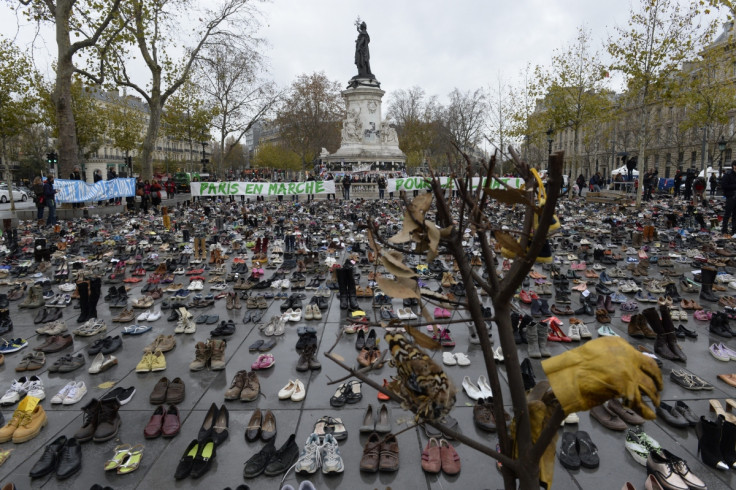 Parisians have placed thousands of pairs of shoes along the Place de la Republique in a show of solidarity with hundreds of climate change marches taking place across the globe. The city's own climate change rally was banned amid heightened security following the brutal terrorist attacks on 13 November.
Tens of thousands are expected to rally in cities worldwide on Sunday (29 November) to call for stronger action against climate change. The rallies are being staged on the eve of the UN Climate Summit beginning in Paris, where nearly 150 world leaders are expected to reach an agreement on limiting carbon emissions. Pope Francis, designer Vivienne Westwood and UN Secretary General Ban Ki-Moon are among those to have donated their shoes to replace climate marches in Paris.
The Secretary General said: "As the world gathers in Paris to stand up for climate action, let us also stand in the shoes of all victims of terrorism, war and persecution and respond with compassion."
The display was organised by campaign group Avaaz to symbolise the climate change activists in Paris who had hoped to take part in the global rallies ahead of COP21. The shoes were decorated with notes from people and some were filled with plants.
Climate change campaign
Iain Keith, campaign director for Avaaz, told Straits Times: "This is a way of symbolically and powerfully joining the climate march and each pair of shoes shows the determination of Parisians to have their voices heard on climate change."
Keith and his team have been at the forefront of the fight against climate change in recent months with the petition calling on world leaders to shift to 100% renewable energy by 2050. The petition had gathered more than 3 million signatures ahead of COP21 and had been described by Avaaz as "the most important petition we've ever done".
Having launched the petition well in advance of the climate summit, the pressure group has already had the opportunity to deliver the signatures to Ban Ki-Moon, French President François Hollande and German Chancellor Angela Merkel. Campaigners told IBTimes UK that they are now looking into the possibility of delivering the 3 million-strong petition at the opening of the climate summit.
Speaking about the summit, Keith said: "Paris can deliver in a meaningful deal, with national commitments from all countries, a credible plan that includes financial help for developing countries and a long-term goal that can send an immediate signal that the world is getting off fossil fuels."
© Copyright IBTimes 2023. All rights reserved.