It's been a while since there's been a catfight on Corrie, so tonight (27 February) viewers should expect a scrap to unfold between Michelle Connor and Rovers Return barmaid Eva Price.
In explosive scenes, Michelle – played by Kym Marsh – discovers that husband Steve is having a baby with Leanne Battersby.
Michelle lashes out at barmaid Eva when the pair argue about Michelle locking Steve and his mother Liz McDonald out of the Rovers Return.
Determined to ruin her husband – who is the pub landlord of the Weatherfield local – Michelle holds a lock-in and hands out free drinks to the punters. Eva tries to stop her, and things escalate pretty quickly, with Michelle dragging a screaming Eva out of the pub by her hair.
Marsh, 40, said of the forthcoming scenes: "She just sees red. Eva is Leanne's sister and Michelle will not be told what to do by her.
"She grabs her hair and drags her out of the Rovers. It is a good old-fashioned Corrie scrap."
The female fight is the latest dramatic development in the storyline to come out of Michelle and Steve's very public break-up following their miscarriage.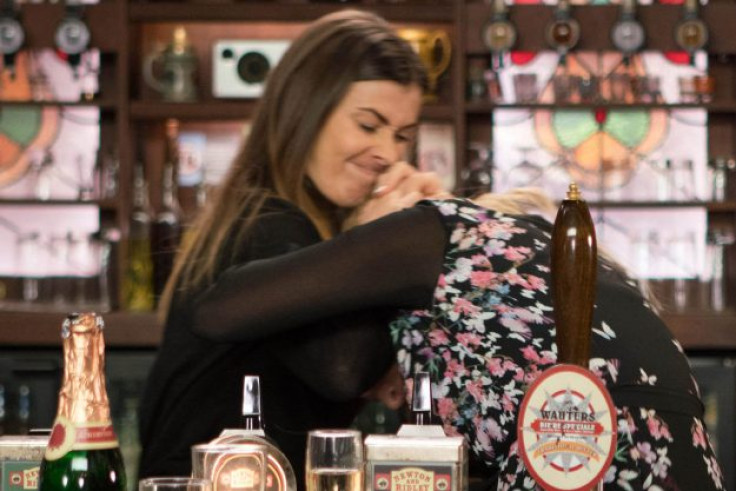 Catherine Tyldesley, who plays Eva, also commented on the violent scenes, stating: "It was brilliant. I have wanted Eva to have a scrap for ages.
"I think Eva would do quite well in a proper fight as she is feisty but she is taken a bit by surprise by Michelle.
"When I told my husband Tom that I had a catfight coming up with Kym Marsh, his words were 'Salford vs Wigan!'. This will be a good ep," she continued.
Only recently, Michelle confessed to cheating husband Steve that she wanted to try for another baby, leaving the love rat petrified.
After her tragic miscarriage – in a storyline that reflected Marsh's own personal experience – Michelle told her partner that she's keen to have another baby as soon as possible. Now she finally knows why it didn't go down too well...
Coronation Street continues tonight at 7.30pm on ITV.