Captain Francesco Schettino went back on board the Costa Concordia for the first time since it ran aground off an Italian island two years ago and claimed he did not abandon ship as it was going down.
Schettino was allowed to take part in a survey of the Costa Concordia by judges in the Tuscan city of Grosseto, where he is standing trial over the shipwreck.
"It's necessary to preserve the dignity of those who are alive, to honour the dead, to ascertain the truth and to [defend] the reputation of all Italian captains," Schettino told Rai2 news television.
"I didn't abandon the ship."
The 53-year-old captain denied reports that he wept as the night-time ferry that took him to the island sailed past the wreckage of the Concordia.
"Who spread these rumours wants me to be thought of as a weak person," he told Il Corriere della Sera newspaper. "But I'm not made this way. I'm trying to prove I'm a gentleman, not a spineless person."
In the morning, followed by a mob of cameras he left his hotel and walked to the port.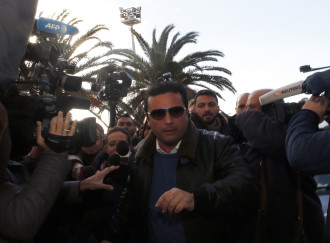 He briefly took shelter in a local restaurant to call police who escorted him through the crowd of journalists and onlookers to the pilot who ferried him to the wreckage of the Concordia, which remains moored off the island after it was set upright in an unprecedented salvage operation known as parbuckling in September.
With him was a team of lawyers and experts who were to inspect an emergency power unit on the 11th deck of the liner, which allegedly did not work on the night of the accident.
Schettino, who is facing criminal charges, has been allowed to monitor the operations but not talk to the investigating team.
He faces up to 20 years in jail on charges of manslaughter, causing a shipwreck and abandoning ship. He is the sole defendant and denies the charges.