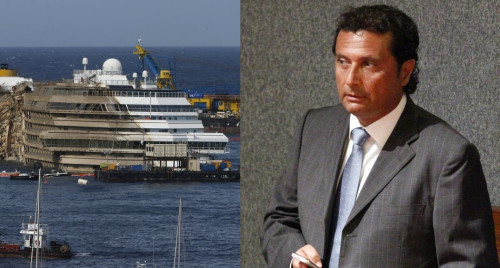 The first mate of the Costa Concordia cruise liner told an Italian court he gave the order to abandon ship before the vessel capsized because the captain would not take action.
Roberto Bosio told judges in Grosseto, Tuscany, that Concordia officials pressured Schettino to raise the alarm after the liner crashed into a reef, but the captain told them to wait, as he was on the phone to the Costa Crociere crises unit.
"Since he wasn't giving any input, the other officials turned to me for a decision," Bosio told the court.
Bosio said he instructed another official to raise the alarm and subsequently personally gave the order to abandon ship.
Outside the court, Schettino told journalists: "A captain delegates; there are designated people who have to do what I say."
Bosio was hailed a hero for his role in coordinating the evacuation of the Concordia.
The 45-year-old, who had captained Concordia's sister ship, the Serena, boarded the Concordia as it set out from the Italian port of Civitavecchia in January 2012 only by chance, the court heard.
Although off-duty he was given the rank of first mate.
Schettino is standing trial on charges of manslaughter, causing a shipwreck and abandoning ship.
Prosecutors alleged the captain, nicknamed "Captain Coward" in the Italian media, steered the liner too close to the island of Giglio because he wanted to perform a sail-past salute. The ship hit a rock, took on water and capsized, killing 32 people.
Schettino faces up to 20 years in jail. He is the sole defendant on trial and denies the charges.