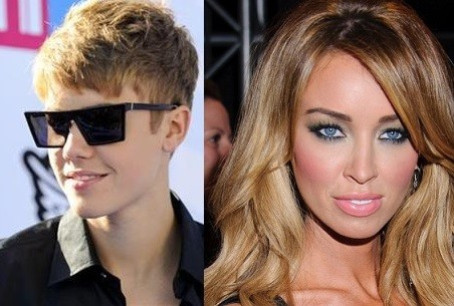 Pop superstar Justin Bieber has sparked speculation that he is secretly dating Lauren Pope after spending the night with the reality TV star at a party in his LA mansion.
Pope, who is best known for appearing on ITV's The Only Way is Essex, was one of the 100 guests who attended the Baby hitmaker's bash. Other guests included Trey Songz, Snoop Lion, T.I., and Chris Brown.
The extravagant event prompted complaints of excessive noise from neighbours.
According to the Sun newspaper, 19-year-old Bieber "only had eyes for" the 30-year-old former glamour model at "the celebrity party of the year".
''They were together all night and seemed to only have eyes for each other," a source told the Sun.
''They were dancing and talking and seemed pretty into one another.
Pope was accompanied by her friend Donatella Panayiotou, who is in LA filming a new reality TV show for E!.
Despite their age gap, Pope is said to have thrown caution to the wind and spent quality time with the singer into the early hours.
She was one of a number of partygoers who stayed behind once the party had been shut down by police at around 1am.
But the blonde beauty will not be spilling the beans about her night with Bieber anytime soon as all visitors were asked to sign a confidentiality agreement before they were allowed entry.
According to TMZ - which obtained a copy of the agreement - guests who attended the party would face a $3 million bill had they used social media, text or phones during the event or discussed what went on behind the closed doors of his Calabasas mansion.
Pope previously dated Towie co-star Kirk Norcross and Bieber has been single since breaking up with singer Selena Gomez earlier this year.