Could Google's $50 Project Ara 3D-Printed Device Change the Smartphone Market Forever? [VIDEO]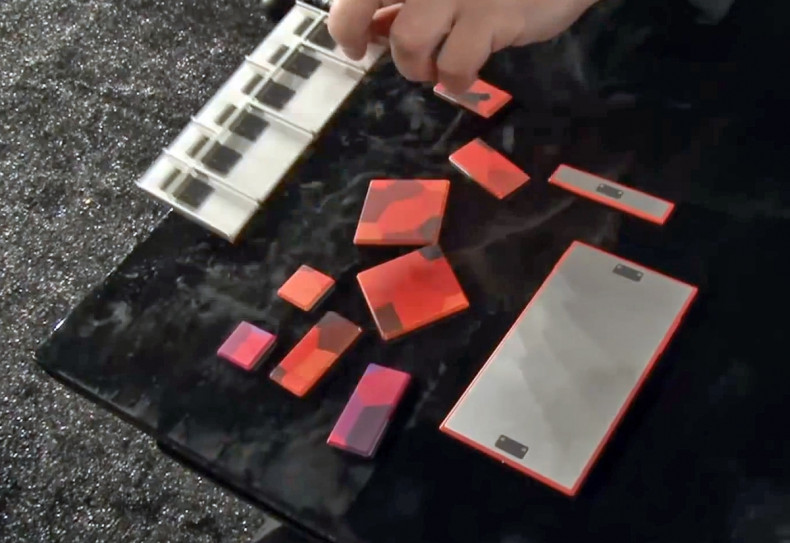 Always dreamed about building your own phone and being able to make a gadget more powerful than everyone else's? Project Ara might well be the answer to your prayers, as Google has shown in its first live demo at the Launch Tech conference last week.
If you're new to the concept, Project Ara was an idea originally conceived by Motorola, whereby an "open hardware ecosystem" would enable people in developing countries to more easily obtain smartphones and be able to access the mobile internet, which is Google's big dream for mankind.
In addition to buying cheaper phones built using components from smaller third party vendors, users could upgrade parts of their smartphones instead of having to buy a brand new one, almost like slotting in a new graphics card into a desktop computer.
Jigsaw puzzle phone
"Our goal here is to change the way innovation happens in the hardware space and make it a lot more like the app store and software space," Google's Paul Eremenko told the Launch Tech conference during a live demo of a prototype handset, which is not yet completely functioning.
The phone consists of a thin magnetic exoskeleton which contains a battery in the frame.
A screen can be slid onto the front side of the exoskeleton, while the back consists of small jigsaw "modular" pieces which each contain an important component to make the phone work, such as the camera or the Wi-Fi antenna.
Best of all, the jigsaw-like panels that slot together on the back of the handset can be printed using a 3D printer – Google is working with 3D Systems on a new consumer grade 3D printer that can print antennas – so small-time hardware manufacturers who have no mobile experience now have a chance to lead innovation and change the way smartphones of the future will look.
For example, an acoustic company could find a way to place incredibly powerful speakers on a tiny component that could fit into the Ara phone.
Move aside, Samsung and Nokia
Eremenko said that this could lead to families having "sharing modules", whereby if one user didn't need a camera but wanted the powerful speaker module from another user's phone, the two users could simply slide out the components, trade them and each have a phone with a different functionality for the day.
"We really set out to design a platform for six billion people," explained Eremenko. "That means the one billion smartphone users in the world today, and the five billion feature phone users."
While the cost of the unusual modular technology and the magnets might make Ara seem more expensive, Google says that this means the user can start with a really plain, simple phone, even a device that is Wi-Fi only, that would cost only $50 to make, and then over time, save up towards purchasing components they want in their phone, such as a camera.
In a sense, Google is really challenging the traditional handset manufacturers, the likes of Samsung, HTC and Nokia, who make most of their money by building and manufacturing phones that come with everything the consumer could possibly need.
Yet that's not really the point of Google's new venture, according to Ermenko.
"We're less interested in people's margins than we are about the pace of innovation... and getting the number of brains [involved] in the ecosystem up into the tens of thousands, like the Android developer market," he stressed.
Giving the little guy a chance
Google doesn't want any money from hardware developers to license their technology, but more seems to want inventors and companies who make different electronic parts to get out there and see if their products would be popular with mobile users, without having to convince a big handset player to use their technology.
"In the same way that Android is free, open source and available to anybody to download from the Google website, the modular developers' kit will be free as well. I think this has a big potential to make the mobile phone market more exciting," said Ermenko.
Project Ara could have the ability to change the smartphone market and bring many more hardware players into the game, but it's still too early to know if consumers will like a jigsaw phone.
Google's first Ara Developers' Conference will take place on April 15-16 at the Computer History Museum in Mountain View, California, but it will also be streamed live and offer developers an opportunity to interact with the live conference online.
Interested developers can sign up to attend the conference at ProjectAra.com, and Google is also looking for people who want to help improve Ara's design.