Geronimo Rojo, the teenage cousin of Manchester United defender Marcos Rojo has been killed during an alleged robbery in Argentina, it has been reported.
The 17-year-old died in hospital early on Monday (6 March) after reports that he had held up a retired police officer at gunpoint. His accomplice, named as Ivan Rodrigo Barbosa, 26, was also killed in the incident.
The two men were on a motorbike and approached 50-year-old Raul Anibal Diaz at a cash machine around 10pm on Sunday in La Plata city, an hour's drive from capital city Buenos Aires.
The retired police officer identified himself before firing several times, which caused the two men fatal injuries, according to local media reports.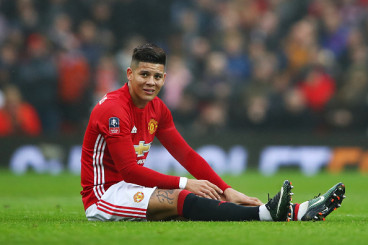 Barbosa was shot in the head and died at the scene, reported La Nacion. Rojo was taken to San Martin Hospital with a bullet lodged in his shoulder but died seven hours later.
Rojo was identified by Hoy newspaper, which published graphic images of the 17-year-old and Barbosa, lying dead on the ground, face down in a pool of blood. The Man Utd footballer's cousin is shown on his back with blood flowing from his left shoulder, his face partially shadowed by a baseball cap.
The two men had attempted to rob a taxi driver who managed to escape by driving away at speed before they zoned in on the ex-police officer, law enforcement sources told local press.
State prosecutor Betina Lacki is investigating the fatal shooting. Diaz, the retired police officer was arrested as part of the official enquiries. He told investigators that he shot the men in self-defence with his .40 calibre pistol.
Argentina released its first official crime statistics in eight years, with the numbers suggesting a slight rise in homicides, increasing from 6.0 per 100,000 in 2008, to 6.6 per 100,000 in 2015. Reports of robbery were up by 9% according to Insight Crime.