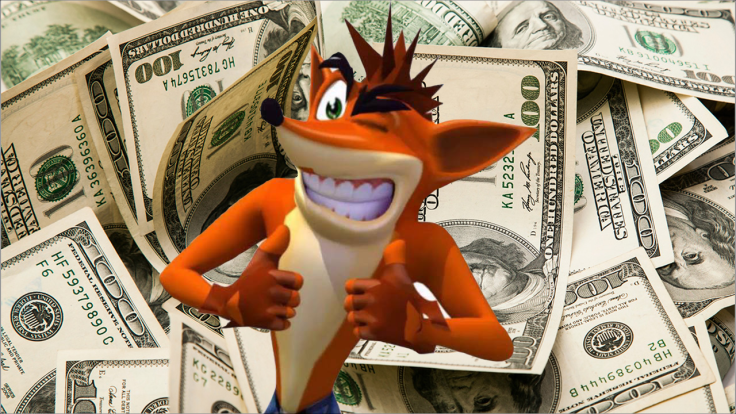 Activision's collection of Crash Bandicoot remasters continues to be one of the best-selling games of 2017, with PS4's N. Sane Trilogy topping the UK chart for a fifth week, and a third consecutive week.
Chart company Chart-Track has confirmed that this now means the game has achieved "the most weeks at number one for a PS4-exclusive title and the most weeks at number one for any title so far this year".
Crash sits atop the chart ahead of 2013's Grand Theft Auto 5 in second (its 203rd week in the chart) and 2015's Fallout 4 in third.
In fact, seven of the top ten best-selling games this month were not released this year.
The exceptions are two Nintendo titles. Nintendo Switch shooter Splatoon 2 is at six, with 3DS adventure Miitopia sitting at eight.
Doom and Dishonored complete the top five, with Battlefield 1 at seven, Fifa 17 at nine and Rainbow Six Siege at ten rounding out the chart.
Crash's continuing dominance was aided by a barren release schedule last week offering no new challengers. The game's top spot also means that a third of all games to sit atop the chart this year have been exclusive to PS4.
Bethesda enjoyed a good week with top positions for Fallout 4, Doom and Dishonored 2, thanks to recent sales promotions. Another recent deal for Battlefield 1 also saw it jump from 14th to seventh.
What will dethrone the jorts-wearing marsupial? The next release to have a chance is Deep Silver's Agents of Mayhem on 18 August, after which there's Uncharted: The Lost Legacy on 23 August, then F1 2017 two days later and Nintendo Switch title Mario + Rabbids: Kingdom Battle on the 29th.
If they all somehow fail to conquer Crash (Uncharted really should) then Destiny 2 absolutely will knock him off his perch when it's released on 6 September.
Activision has taken note of Crash Bandicoot: N. Sane Trilogy's success, as an Xbox One version continues to be subject to speculation. It seems inevitable, as does future remasters for other series owned by the publisher.
Last week, during an investor call, Activision exec Eric Hirshberg said: "We knew that there was a passionate audience out there for Crash... but we had no idea - it's hard to tell whether that's a vocal minority or whether that's a real mass audience until you put something out there.
"Crash has surpassed all of our expectations by a pretty wide margin. And a couple of stats that underscore that point where it was the number-one selling console game in June based on units, even though it was only available for two days during that month.
"We think we have other great IP in our portfolio that we're considering of course... I think you can be confident that there will be more activity like this in the future with more great IP."
This could mean any number of series, including Tony Hawk games (they've remastered these before) Guitar Hero and older Call of Duty games, but the series that seems like the most natural fit is Spyro.
Spyro the Dragon was, like Crash, another star of a PS1-era 3D platformer.