Ukraine said its athletes will compete in the Winter Paralympics in Sochi despite the ongoing standoff with Russia over Crimea.
"We are staying at the Paralympics," The head of Ukraine's Paralympic Committee Valeriy Sushkevich said. "So they remember us, remember Ukraine - a sovereign state, which sent its athletes here".
However Sushkevich said that the team will pull out if war between Russia and Ukraine breaks out.
"I am very afraid that despite the world's wishes and my call that the irreversible will happen during the Paralympics," Sushkevich said.
"I declare: we will pull out of the 11th Paralympic Games in Russia that very second if the thing we fear and which we are against happens."
The decision was announced a few hours before the Paralympics opening ceremony.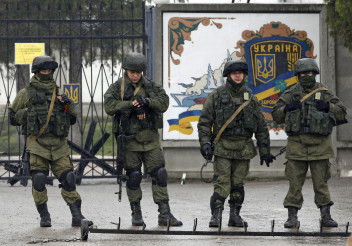 Sochi, on the Black Sea, is only a few hundreds kilometres southeast of the Crimean peninsula.
Sushkevich said he asked Russian President Vladimir Putin to ensure there would be peace during the Games.
"I don't know to what extent the team can focus on the result now," Sushkevich added.
Earlier this week the Crimean parliament voted for the region to break away from Ukraine and join Russia instead in the wake of the revolution that toppled Kremlin-backed president Viktor Yanukovich.
Crimeans, the majority of whom are ethnic Russians, are to vote on the issue in a referendum scheduled for 16 March.
The West and new authorities in Kiev described the decision as "illegitimate" and "unconstitutional".
Ukraine's interim Prime Minister Arseniy Yatsenyuk said Kiev was ready to find a diplomatic solution to the crisis and hold talks with Moscow, but Russia had to withdraw its troops from Crimea first.
The Russian parliament has rubberstamped a request by President Putin to use force in Ukraine, claiming the security of ethnic Russians living there was at risk following the pro-West revolution.
Heavily armed troops, displaying no identifying insignia, have since taken over strategic locations in the southern Ukrainian region.
Putin denied the troops are Russian saying they are members of local self-defence forces.