US President Obama urges Russia's Vladimir Putin to seek a diplomatic solution.
Interpol receives red notice request from Ukraine against Yanukovich.
Ukrainian Paralympic team assessing whether to boycott Sochi Winter Paralympics.
Putin defends Russia's actions in Ukraine as being within international law.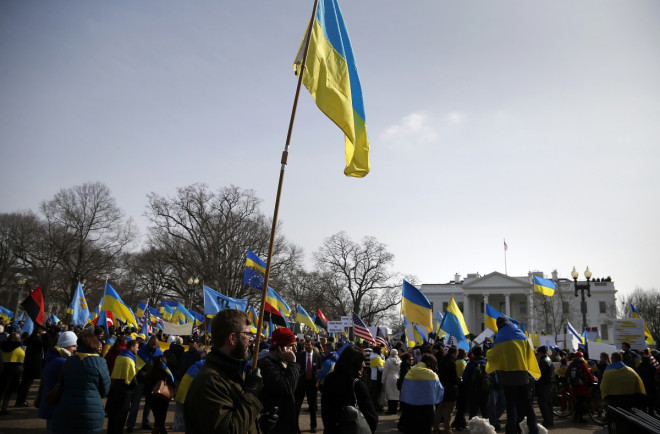 Welcome to our live coverage of the Ukrainian crisis. Here are the latest updates.
18:59 Our live coverage ends here. IBTimes UK will be back on Monday with fresh developments in the Ukraine crisis.
18:41 Just one flag carrier represented Ukraine at the opening ceremony of the Sochi Paralympic Games.
18:35 Crimea's PM Sergey Aksyonov has received a standing ovation in Moscow.
18:11 Ukraine is to sign a deal with the EU in weeks, according to the Kyiv Post.
16:42 US senator John McCain tweeted:
16:33 A few thousands of Russians held a rally in Moscow to support Crimea's bid to join the Russian Federation.
The crowd chanted "Crimea is Russian soil" and "we are with Putin," the LA Times reports.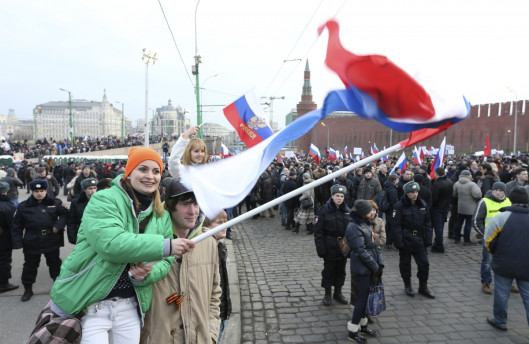 16:13 Crisis-struck Ukraine has missed the payment deadline for its February gas supply from Russia's state-owned Gazprom.
The energy giant had already said it would scrap Ukraine's gas price discount after the revolution-gripped country warned it would not be able to pay its latest bill.
Alexey Miller, Gazprom chief executive, confirmed that Ukraine's payment deadline had passed. He said the bill is for $440m (£263m, €317m).
Read more here: Ukraine Crisis: Gazprom Deadline Passes Leaving $440m Gas Bill Unpaid
16:11 Turkey's Anadolu Agency has quoted Prime Minister Recep Tayyip Erdogan as saying that Turkey will support Crimean Tatars in the ongoing crisis in Crimea.
"We will not leave Crimean Tatars in the lurch," Erdogan was quoted as saying.
"I have talked to Russian President (Vladimir) Putin on the events in Crimea and told him that Russia should protect the rights of Crimean Tatars as they do with the Russian majority and other minorities in Crimea."
Tartars in Crimea have backed Ukraine's new government.
15:21 Here is a photo of French president Francois Hollande meeting with Ukraine Ukraine opposition leader Vitaly Klitschko at the Elysee palace in Paris.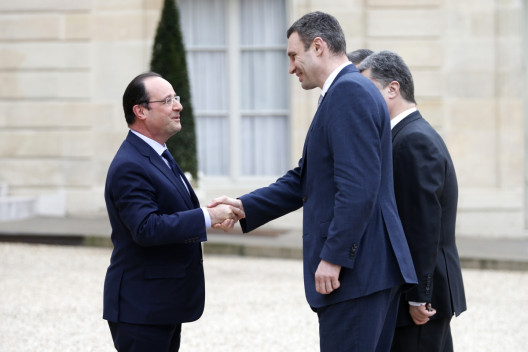 15:09 China said it doesn't support sanctions against Russia over the Ukrainian crisis:
"China has consistently opposed the easy use of sanctions in international relations, or using sanctions as a threat," Chinese Foreign Ministry spokesman Qin Gang said, Reuters reports.
Read more here: Crimea Crisis: China Opposes US-EU Russian Sanctions over Ukraine
14:52 Gazprom said Ukraine had failed to pay for its February gas deliveries, Reuters reports.
"Today, March 7, was the deadline for payments for gas supplies to Ukraine in February. Gazprom has not received payments for the debt," Chief Executive Officer Alexei Miller said.
"Either Ukraine makes good on its debt and pays for current supplies, or there is risk of returning to the situation of early 2009."
In 2009 the Russian energy giant halted gas supplies to Ukraine.
14:40 Ottawa has expelled nine Russian soldiers who were participating in military exercises in Canada.
Canadian Prime Minister Stephen Harper had earlier announced the end of military cooperation with Russia over the standoff in Ukraine.
Russian Deputy Defense Minister Anatoly Antonov said Canada is destroying positive ties between the two countries, Itar-Tass news agency reported.
14:15 OSCE Representative on Freedom of the Media Dunja Mijatović has warned that the current situation in Ukraine has led to a media freedom crisis.
"I am extremely worried about the media freedom situation, we are seeing cases of intimidation, beatings and media censorship every day. I call on all those responsible to stop the information war, ensure journalists' safety in Crimea and elsewhere and immediately start to de-escalate the situation by allowing media to report freely," Mijatović said.
"In times of crisis, members of the media are among the first to be attacked to deprive citizens from receiving information from a variety of sources. The recent demonstrations in Kyiv and other cities and what we are seeing across Crimea are clear examples of this."
14:12 OSCE spokesperson Cathie Burton tweeted:
14:08 Syrian President Bashar al-Assad has praised Vladimir Putin over Ukraine, saying the military takeover of Crimea reflects the Russian President's "wise policy" and his efforts to restore "security and stability", AP reports.
13:57 Armed men blocked the OSCE team from entering Crimea for the second consecutive day, AFP reports.
13:52 The German foreign ministry tweeted:
13:50 Ukraine's leader of the far-right Pravy Sektor (Right Sector) paramilitary movement Dmytro Yarosh has announced his presidential bid in elections planned for 25 May.
The ultra-nationalist movement's chairman Andriy Tarasenko said that Right Sector will also become a political party.
Read more here: Ukraine's Neo-Fascist Right Sector Leader Dmytro Yarosh to Run for President
12:32 In this photo, Ukrainian Interior Ministry members are seen standing guard outside the local government building in Donetsk, after clashes between pro-Russian supporters and riot police earlier this week.
The situation seems quieter today.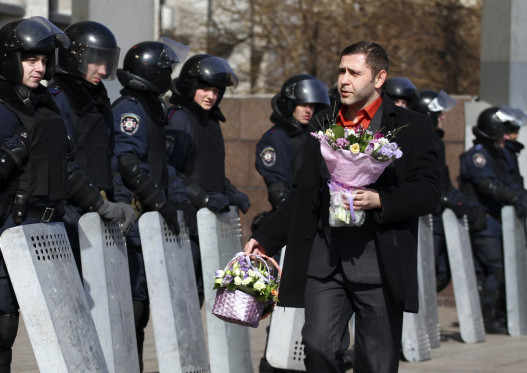 12:23 Ukraine said its athletes will compete in the Winter Paralympics in Sochi despite the ongoing standoff with Russia over Crimea.
"We are staying at the Paralympics," The head of Ukraine's Paralympic Committee Valeriy Sushkevich said. "So they remember us, remember Ukraine - a sovereign state, which sent its athletes here".
Read more here: Crimea Crisis: Ukraine To Stay in Sochi Paralympics Unless Russia Invades
11:57The OSCE has posted on its website some details and photos of its envoys' failed attempt to enter Crimea:
"43 military and civilian personnel from 23 OSCE participating States currently form the contingent of military visitors, sent by OSCE participating States at the request of Ukraine, to dispel concerns about unusual military activities," OSCE wrote.
"The personnel attempted to enter the Crimea region at the Armyansk crossing point on 6 March 2014. Two checkpoints have been set up, one by Ukrainian forces, and a second by unidentified military personnel."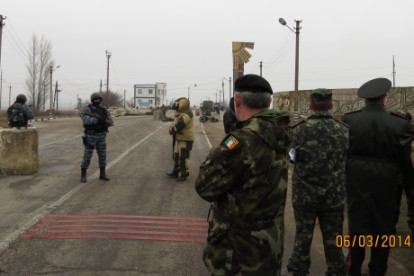 11:03 Ukraine's National Paralympic Committee has confirmed the country's athletes will stay and compete in Sochi Paralympics.
10:38 Kiev Post editor Christopher Miller tweeted:
10:35 Vladimir Putin's press secretary Dmitry Peskov has claimed that "what is happening in the east (of Ukraine) and Crimea has nothing to do with the Russian Federation," the Voice of Russia reports.
"These are not manipulated processes, let alone those that are the consequences of some actions by Russia."
Russia has claimed the thousands of troops that the West and Ukraine says it has deployed in Crimea are some sort of well-trained local self-defence force.
10:24 Here you can read more about Interpol considering a Ukrainian request to hunt down Yanukovich.
Ukraine Crisis: Viktor Yanukovich Soon to Join Interpol 'Wanted' List?
10:20 Ukraine has reportedly decided to compete in the Sochi Paralympics that start today.
Channel 4's Krishnan Guru-Murthy tweeted:
10:17 The Russian Foreign Ministry has criticised a Nato decision to suspend cooperation with Moscow.
"The Nato Council's decision to suspend meetings within the framework of practical cooperation with Russia exhibits a biased and tendentious approach to the analysis of causes and consequences of the Ukrainian events," Russian Foreign Ministry spokesman Alexander Lukashevich said, the Voice of Russia reports.
9:58 Here us a photo of the US Navy guided-missile destroyer USS Truxtun setting sail in the Dardanelles straits, on its way to the Black Sea.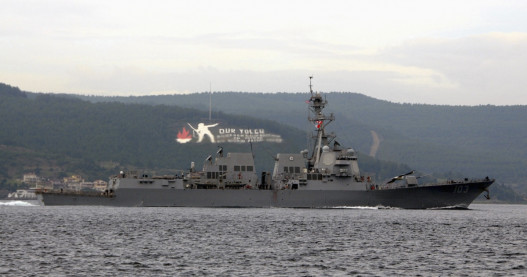 The ship left Crete yesterday and is due to conduct combined training in the Black Sea with Romanian and Bulgarian Naval forces.
You can read more here.
9:52 The chair of Russia's Lower House State Duma Sergei Naryshkin said the parliament will support Crimea in its "free and democratic choice" to hold a referendum on its future, Itar-Tass news agency reports.
"We realize that the decision of Crimea's Supreme Council resulted from an acute political crisis in Ukraine and is connected with a bid to ensure the rights and freedoms of the citizens," Naryshkin said.
9:39 Here is a statement released by the Kremlin on the phone call between Putin and Obama:
The presidents continued their discussion of the critical situation unfolding in Ukraine. During the conversation, they addressed the differences in approaches and assessments of the causes for the current crisis and the present state of affairs.
In particular, Vladimir Putin noted that the current Ukrainian government, which came to power as the result of an unconstitutional coup and was not supported by a nationwide mandate, is imposing entirely illegitimate decisions onto Crimea and the eastern and southeastern regions of Ukraine. Russia cannot ignore calls for help on this matter and is responding accordingly, in full compliance with international law.
The President of Russia stressed the paramount importance of Russian-US relations for ensuring stability and security in the world. These relations should not be sacrificed due to disagreements on individual international issues, even if they are very significant.
The leaders of the two nations agreed that Foreign Minister Sergei Lavrov and Secretary of State John Kerry will continue close communication.
9:31The chair of Russia's upper house of parliament Valentina Matviyenko said she is sure there will be no war between Russia and Ukraine.
"We are absolutely sure there will never be war between two brotherly nations," she said.
9:22 The Russian foreign ministry tweeted:
8:44 Interpol says it is considering a request by Ukraine's new authorities for issuing a Red Notice or international wanted persons alert against ousted president Viktor Yanukovich. Charges against the fugitive president include abuse of power and murder.
A Red Notice is "one of the ways in which Interpol informs its member countries that an arrest warrant has been issued for an individual by a judicial authority," Interpol said.
"A Red Notice seeks the location and arrest of wanted persons with a view to extradition or similar lawful action. It is not an international arrest warrant."
Yanukovich was last seen in Russia, which is a member state of Interpol.
Interpol said: "A request by Ukrainian authorities for an Interpol Red Notice, or international wanted persons alert, for the arrest of Victor Yanukovych on charges including abuse of power and murder has been received by Interpol General Secretariat headquarters in Lyon, France.
"The request, received on Wednesday 5 March 2014, is being assessed by Interpol's Office of Legal Affairs to determine whether it conforms with the Organization's constitution and rules.
"All Interpol member countries have been informed of the ongoing review and all references to the Ukrainian."
8:35 US President Barack Obama pushed for a diplomatic solution to the Ukraine crisis in his telephonic conversation with Vladimir Putin.
Here is a White House statement on the call:
President Obama spoke for an hour this afternoon with President Putin of Russia. President Obama emphasized that Russia's actions are in violation of Ukraine's sovereignty and territorial integrity, which has led us to take several steps in response, in coordination with our European partners. President Obama indicated that there is a way to resolve the situation diplomatically, which addresses the interests of Russia, the people of Ukraine, and the international community. As a part of that resolution, the governments of Ukraine and Russia would hold direct talks, facilitated by the international community; international monitors could ensure that the rights of all Ukrainians are protected, including ethnic Russians; Russian forces would return to their bases; and the international community would work together to support the Ukrainian people as they prepare for elections in May. President Obama indicated that Secretary Kerry would continue discussions with Foreign Minister Lavrov, the government of Ukraine, and other international partners in the days to come to advance those objectives.