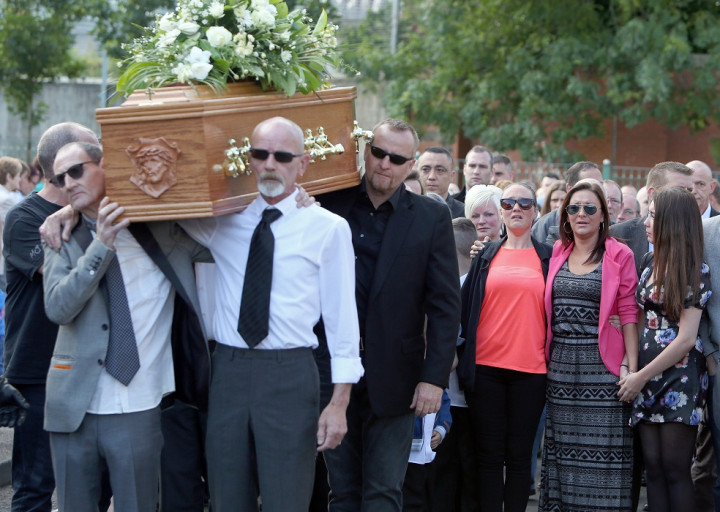 Large crowds gathered in Belfast for the funeral of Gerry Conlon, who was wrongly convicted of terrorist bombings in England in 1974.
Conlon was one of the Guildford Four, who were convicted of bombing the Horse and Groom pub in Guildford, Surrey, in 1974. He spent 15 years in prison before the convictions were quashed in 1989.
The Guildford Four – Conlon, Paddy Armstrong, Paul Hill and Carole Richardson – were convicted as an IRA bombing campaign targeted pubs in England.
Conlon died of lung cancer aged 60 at his home in west Belfast on 21 June. His coffin was carried into St Peter's Cathedral in west Belfast by four members of the Birmingham Six.
Irish deputy Prime Minister Eamon Gilmore was among a number of politicians who attended the funeral. In a statement Conlon's family said: "He brought life, love, intelligence, wit and strength to our family through its darkest hours. We thank him for his life and we thank all his many friends for their love."
His lawyer Gareth Pierce paid a personal tribute to him. "When he shouted out: 'I'm an innocent man, my father was innocent, the Maguires are innocent and the Birmingham Six', he set something in motion that forced the rest of us, the rest of the world, Britain, to hold a mirror up to ourselves and see precisely who we were and what we had done."
Pierce concluded to loud applause: "In the end Gerry Conlon won. The victory was his."
In the years after his release Conlon faced depression, drink and drugs but had overcome his problems. Father Ciaran Dallat, who anointed Conlon shortly before his death, told mourners that "in the last 10 years he found some peace for himself".
Conlon is survived by his partner Alison and daughter Sara, and sisters Anne and Bridie.
The Court of Appeal quashed the Guildford Four's sentences in October 1989, amid doubts raised about the police evidence against them. An investigation into the case by Avon and Somerset Police found serious flaws in the way Surrey Police handled the investigation. The wrongful conviction is acknowledged to be one of the biggest miscarriages of justice in British legal history.
The real perpetrators of the Guildford bomb attack have never been identified.