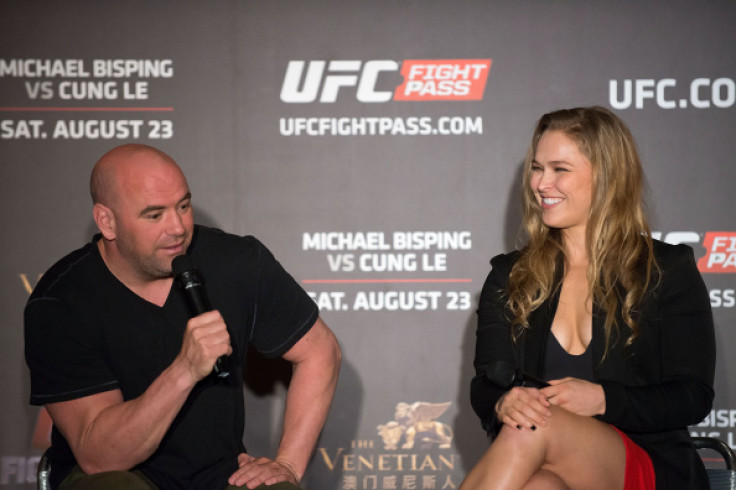 Ultimate Fighting Championship (UFC) president Dana White has dispelled concerns about Ronda Rousey's mental state ahead of her bantamweight title showdown against Amanda Nunes at UFC 207 on 30 December at the T-Mobile Arena in Las Vegas.
The UFC chief stated that the challenger and former champion is back to her best and is in 'great spirits' ahead of her fight. Rousey is returning to the octagon after a 13-month hiatus following her brutal knockout against Holly Holm last November, and many have questioned her mental state going into the fight against the reigning bantamweight champion.
"I have talked to her every day. She is great. She is ready to roll, she is ready to fight, and it is all good. Everybody knows that Ronda is psychotically competitive," White told reporters on Wednesday, as quoted by USA Today.
"She is as good as I have ever seen her. She is in amazing shape, she is in great spirits. She is fired up. She is like the old Ronda again. She just had to deal with this thing the way she wanted to deal with it."
White also defended the 29-year-old California born fighter with regards to her lack of press activity ahead of the much anticipated fight. Rousey has steered clear of the media and has only spoken publicly a couple of times after admitting that she wants to completely focus on the fight without distractions.
The UFC president confirmed that the hierarchy have given Rousey permission to skip media activity owing to her commitment to promoting the sport in the past. White however, made it very clear that this was a one off deal, and that any fighter missing a press conference will be cut from the card.
"If you look at the amount of press that has been done by any fighter in the UFC history, Ronda smokes everybody by a long shot. This is the way she wanted it. The only thing she cares about right now is focusing on winning, She has done a lot of things for us. This is what she wanted and we gave it to her.
"It is definitely not ideal. Back in the day Ronda would literally do anything we asked her to do. So for her to ask for something like this, how can I say no to that? This is a one and done. It doesn't open the floodgates, it doesn't change anything. If someone doesn't show up for a press conference I will pull them from a card," the UFC chief explained.