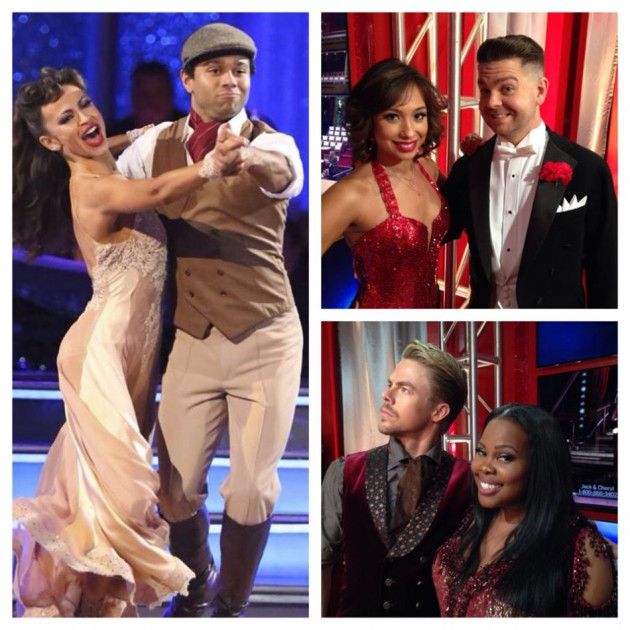 From relentless injuries and shocking eliminations to sensational sambas and terrific tangos, the emotional journey of Dancing With The Stars Season 17 finally came to a superb end.
It came down to a "Glee" singer and actress, a singer and actor famous for "High School Musical," and a reality TV star from rock star family royalty.
Amber and Derek, Jack Osbourne and Cheryl Burke, and Corbin Bleu and Karina Smirnoff hit the ballroom floor one final time for their "24-hour fusion dances."
It was a Quickstep/Samba for Amber and Derek; Foxtrot/Cha Cha for Corbin and Karina; and Paso Doble/Salsa for Jack and Cheryl.
With just one remaining dance each for our trio of celebs, Tuesday night's two-hour show was packed with more filler than Joan Rivers' face, which included performances by Enrique Iglesias; Norwegian duo Ylvis (featuring a welcome reprise of the season-highlight team dance to their infectious hit "What Does the Fox Say?"); requisite highlight clips from the last few months; and the happy ballroom return of all the celebs, reports TV Line.
Dance of The Night
Amber Riley & Derek Hough: Performing the very last dance of the night and the season, the Glee star seemed to hold her Mirrorball destiny in her hands. Her joyful, high-energy Samba-Quickstep fusion universally wowed the judges. Carrie Ann Inaba noted Amber's skill in "seamlessly and effortlessly going back and forth" between the two styles, while Len gushed, "You are absolutely bedazzling and that dazzle lights up this ballroom." On the technical side, Bruno Tonioli also found the performance faultless, noting "I counted every beat, you did not put a foot wrong."
And The Mirrorball Trophy Goes to:
3rd Place: Jack Osbourne & Cheryl Burke
Final Two Couples in Contention For The Mirrorball:
Amber Riley & Derek Hough
Corbin Bleu & Karina Smirnoff
Season 17 Mirrorball Champions: Amber Riley & Derek Hough
"I did this competition because I didn't know if I could do it, and anything that scares me I want to do," said an ecstatic Riley, who saved her best for the very last. "I want to let women of all sizes out there know, you can do whatever you put your mind to. It doesn't matter what size you are, what color you are, you can do whatever, whatever, whatever, whatever you put your mind to!"