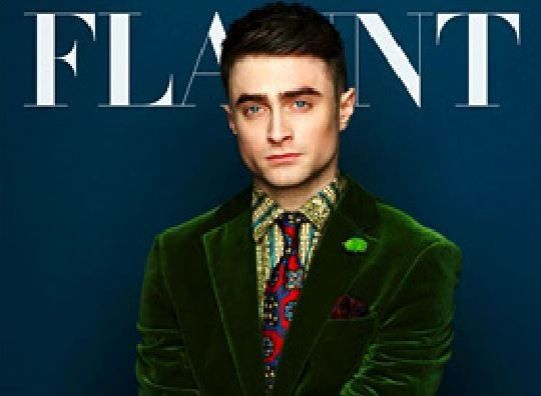 Harry Potter star Daniel Radcliffe looked dapper in a velvet green suit on the cover of Flaunt magazine's latest issue.
The 24-year-old actor talked about his latest film Kill Your Darlings in which he plays young gay man Allen Ginsberg. The movie is about the early days of the Beat Generation.
"I don't think there's any difference between how one falls in love. People express love differently, person to person, but it's not gender or sexuality related. The only difference it made was obviously the actual sex scene, of course...," he said, adding, "I was talked through it by the director. He would be telling me what I would be feeling in each take. Basically, gay sex, especially for the first time, is really fucking painful. And [Krokidas] said that he had never seen that portrayed accurately on film before. He wanted it to look like an authentic loss of virginity."
In the film, Dane DeHaan stars as Lucien Carr, Jack Huston as Jack Kerouac, and Ben Foster as William S. Burroughs. Michael C. Hall, Elizabeth Olsen, David Cross, and Kyra Sedgwick also make an appearance.
The British actor also discussed on the political spectrum in the United States.
"The thing I've learned from spending time in America is that the fatal mistake is to consider it to be one country, or to tar any particular region with one brush," he said, "America has such a strong conformist character that the counter culture that arises from it is all the more vibrant-that goes all the way from Ginsberg to Nirvana...actually, ever since the 1920s onwards."