Dark Souls 3: Watch the eerie new Japanese launch trailer ahead of game's global release on 12 April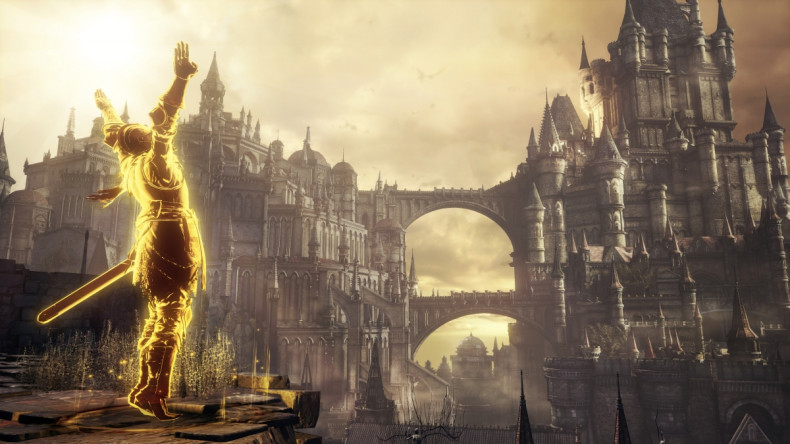 Game developer FromSoftware and publisher Bandai Namco's Dark Souls 3 is officially out in Japan and its latest launch trailer gives fans an insight of the title before it hits stores worldwide on 12 April. Voiced in English with Japanese subtitles, the ominous trailer showcases new landscapes, bosses, monsters, armour and weaponry.
Evoking the series' trademark dark, brooding vibe, the trailer opens with a doom-laden story dialogue about fire and disparity, life and death and, of course, light and dark.
"You'll face death and it won't be pretty, enough death to leave you broken, time after time," warns the narrator.
Titled Born In Fire, the trailer is filled with never-seen-before bosses, glorious warriors and a host of nightmarish monsters lurking and waiting to rip through you, including a skeleton army charging across a rickety Indiana Jones-esque rope bridge. It also features the same deadly combat, but with much quicker and smoother controls, similar to that of Bloodborne.
Needless to say, the trailer certainly sets the stage for the latest addition to the Dark Souls franchise and one of the most anticipated games coming out this year. For those who can not wait to see gameplay footage of the title, several YouTube users in Japan have already leaked footage onto YouTube that shows everything from the game's intro and controls to player selection, weaponry and boss fights.
The latest bit of marketing for Dark Souls 3 is also rather different from the advertising for the gritty title in other parts of the world. Bandai Namco Entertainment UK will be hosting a hot wing eating contest in the UK, challenging fans to "embrace the fiery flavours of the deepest darkest chicken wing challenge" and chow down on 20 deadly spicy wings in the fastest time possible to win Dark Souls prizes. The contest will run from 4-29 April at any MEATliquor restaurant in the UK.
The franchise's latest addition was announced during Microsoft's E3 press conference in June 2015 and has reportedly taken inspiration from the masterpiece Bloodborne, the brutal, gothic spin on the Dark Souls formula.
Dark Souls 3 will be released worldwide on 12 April for PS4, Xbox One and Windows PC.