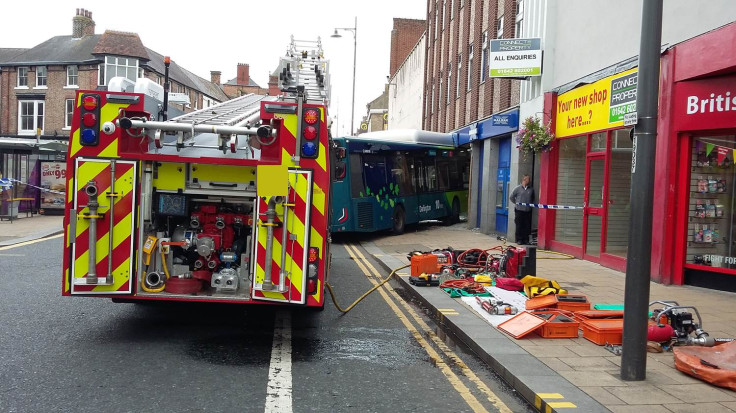 An elderly woman has died and two others left injured after a bus crashed into a Halifax bank on a busy high street in Darlington town centre.
Durham Constabulary said the driver of the bus, a 52-year-old man, had been arrested on suspicion of causing death by dangerous driving.
Chief Inspector Graham Milne said: "Obviously this is a tragic incident and I would like to extend my condolences to the deceased's family. I would also ask anyone who was in the area at the time and witnessed the collision to contact us on 101."
Two pedestrians injured in the crash have been taken to hospital with their injuries not thought to be life-threatening.
Witnesses described the crash, which happened just before 11am, as "horrendous".
Darlington resident Fiona Turnbull, who was in the bank when the bus came crashing through, said she was inches from being struck.
She told The Northern Echo: "There was a lady inside who'd asked me something so I turned around; if it hadn't have been for that then I would have stepped out and that would have been it for me.
"We both jumped backwards and I heard the screams, then I looked and saw the bus coming. I fell back on the step and I was frozen, it was inches from me. I will see that bus coming towards me for a long time."
Shopper Janet Langan told the BBC: "The driver's side of the bus was inside the bank. People were being sick and people were crying."
One woman who spoke to ITV News, said the bus had swerved to avoid a man crossing the road.
"He obviously didn't want to run the man over so he swerved and just went into it [the bank]," she said. "There were three people trapped underneath. I'm just shaken up, it was a horrible sight. And I've seen some sights in my time."
The North East Ambulance Service sent three crews to the scene, including a hazardous response team, trauma paramedics and an air ambulance.
Durham Police said the bus had veered off the road, hitting a pillar near the bank's entrance.
Road closures remain in place from St. Cuthbert's Way roundabout to Crown Street.
Arriva confirmed that one of its buses had been involved in the incident, and said in a statement: "An investigation has been launched and we are co-operating fully with the emergency services and the police, who are leading the investigation.
"Our thoughts are with the families of those involved."