It is often from the most unlikely places that true creative genius can be found and there are few who would imagine that a man named David from Beckenham would be responsible for pioneering some of the most groundbreaking fashion trends of the twentieth century.
From endorsing unknown designers to captivating audiences with his unapologetic androgynous persona there was very little about David Bowie that ran with the status quo and in turn he has left a legacy that far exceeds the content of his albums. Just look at the record sleeves to recount his incredible style and substance within the fashion world.
Impeccably dressed, whether posing in a perfectly-tailored suit or cavorting in a skintight intarsia-knit jumpsuit, there are few musicians who can say that made as much of a sartorial impact as Bowie. Even something as simple as a lightning bolt will conjure up an image of the man who not only made dressing up look fun but made it important, and this is a legacy that not only influenced his contemporaries but so many designers and artists that would follow.
Too young to appreciate the birth of Ziggy or Aladdin Sane, my first reference to Bowie was in fact in the introduction to the 1980s 'The Snowman' on VHS, where a softly-spoken man with a shock of bleached blonde hair donned an Aran knit and bright intarsia knit Snowman scarf which I naturally wanted. It was not long before the rest of Bowie's knitted ensembles would catch my attention and so much more, from the shock of red hair to the printed silks and embellished catsuits. The most interesting people in fashion are those who grab your attention and this is a worthy quality that Bowie will always possess.
Ziggy Stardust
The Bodysuits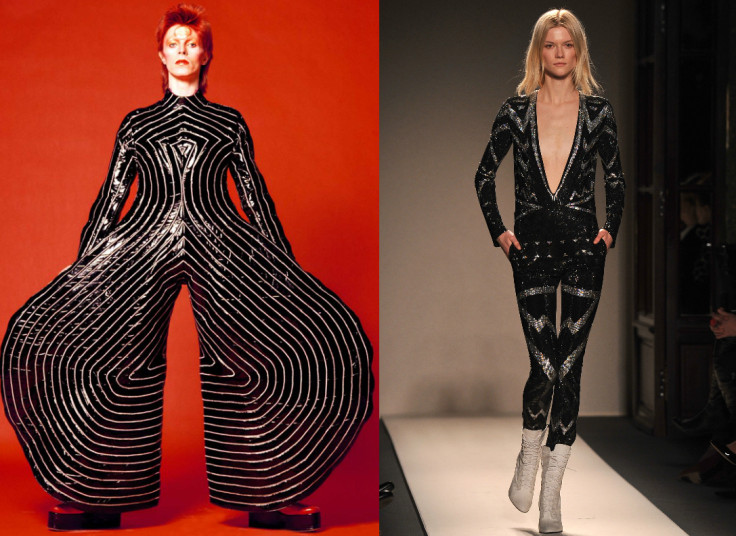 Ziggy Stardust is probably one of Bowie's most infamous characters and it was Ziggy's relationship with Japanese designer Kansai Yamamoto that created such an iconic figure.
The exaggerated, other-worldly designs were remarkable design feats but also were seemingly impossible to wear. The likes of Olivier Rousteing have reimagined these creations on the catwalk, retaining every element of Bowie's eccentricity.
Androgony personified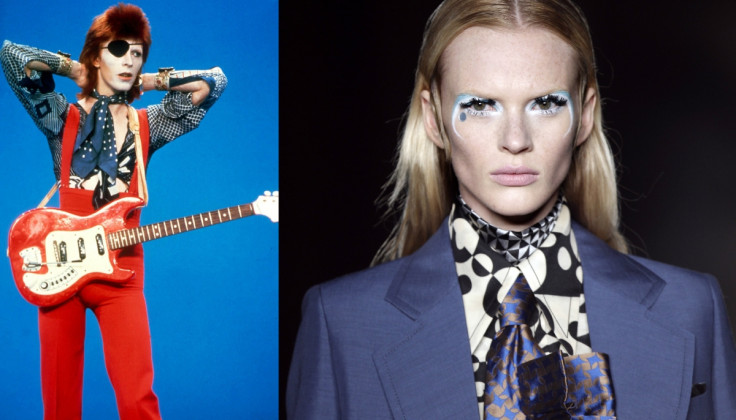 The androgynous style of Ziggy's persona was new, exciting and whilst glam rock was in full swing in the 1970s Bowie trailblazed this in the early years. Silk shirts and neck ties twinned with skin tight dungarees and eye patches sounds insane but every piece was carefully considered and resulted in an artistic and groundbreaking fashion look that the likes of Prada would look back to for future collections.
Inventive tailoring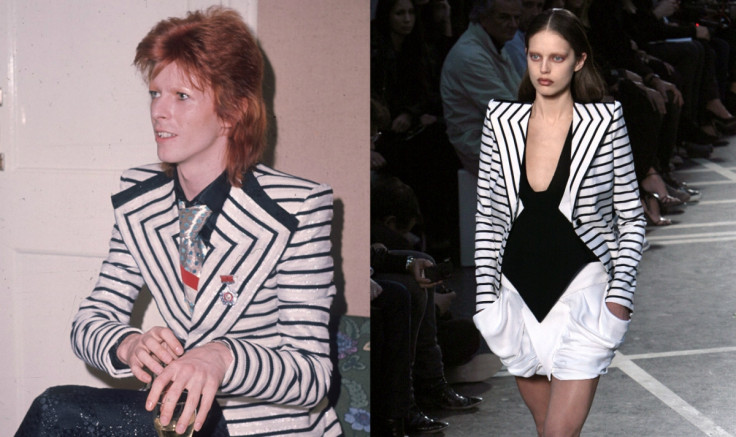 Revolutionary Knitwear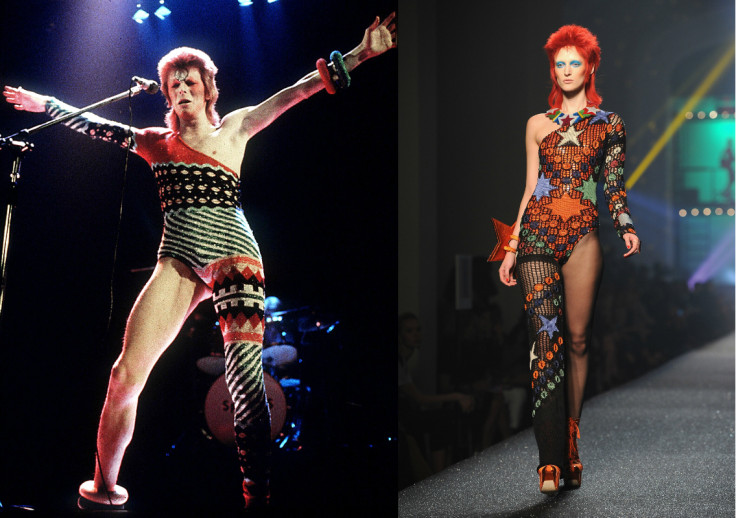 Ziggy Stardust would not be complete without Yamamoto's incredible knitwear that was a truly revolutionary feat. The wild intarsia designs may have lived within the realms of sweaters previously but one had experienced the thigh-exposing one-legged jumpsuits that Bowie wore so magnificently with contrasting bold hued eye shadow and matching woollen jewellery. This was new and odd but exciting and led the way for stage wear for years to come. Jean Paul Gaultier's crocheted homage during his spring/summer 2013 show proved just how striking this look still is today.
The Playsuits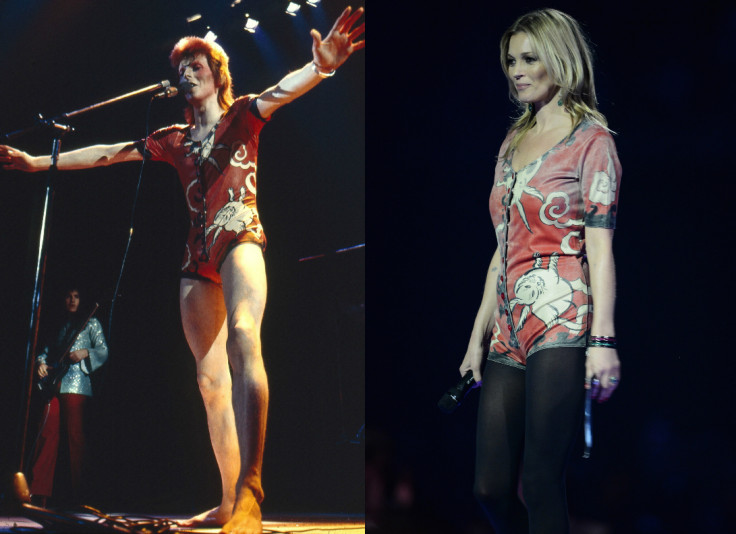 When supermodel Kate Moss offered to accept Bowie's award for Best Male Solo Artist, she stepped out to the stage wearing Bowie's original 'Bunny costume' one of Ziggy Stardust's stage outfits from 1972. It just went to show the incredible genderless quality of his costumes as the pair looked equally as incredible in it. Bowie's acceptance speech read "In Japanese myth the rabbits from my old costume which Kate is wearing live on the moon. Kate comes from Venus and I from Mars." A refreshingly cryptic message.
Aladdin Sane
In July 1973, Bowie held a retirement party in London's Cafe Royal. This was not to retire himself but to kill Ziggy Stardust who was never to return. Whilst it seemed the costumes would die forever, it was merely a transitioning before perhaps his most iconic fashion moment which was to be the cover for his following album Aladdin Sane. The bold lighting stripe that tore across his bright green eye has become synonymous with Bowie and has been a reference for innumerable catwalk shows and fashion shoots although Kate Moss' Vogue UK cover for May 2003 remains the most famous.
The Thin White Duke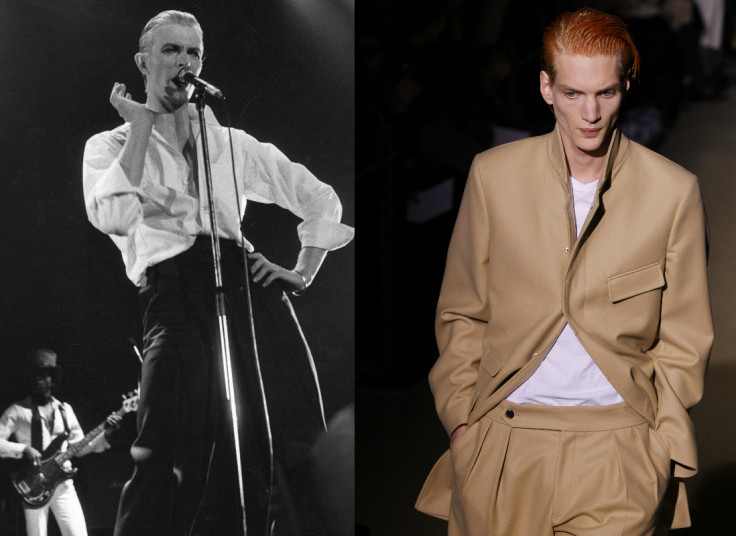 The years following Aladdin Sane were tempestuous and when Bowie tackled drug addiction and discarded the red hair he also channelled a look that was to alter the trends once more. The antics of the era of 'Young Americans' and the birth of the Thin White Duke in 1976 paved the way for a new sleek tailored look that embodied of the spirit of the new romantics almost a decade before the movement was even defined. Loose, draped suiting, stark white shirts and slicked back blonde hair and darkened eyes were de rigeur as he once again created a look that would master androgyny in a totally new form.
This style of suiting is still referenced by designers who look to Bowie's alter egos for inspiration that pushed boundaries and veered away from the norm. Hedi Slimane, creative director of Saint Laurent previously told Another magazine that "I was literally born with a David Bowie album in my hand. Style and men's fashion in particular were, for me, always connected to stagewear" which has led to a oft present reference to music in his design. Similarly Dries Van Noten looked to the Thin White Duke when designing his Men's fall-winter 2011-2012 ready-to-wear stating that wanted "something glamorous without being feminine," and that is what Bowie did best.
Truly creative and infinitely inventive, Bowie had a profound and lasting influence within the fashion world not just for his style but the designers he pioneered. What he mastered was balance in eccentricity, a catsuit never look overtly feminine nor a suit look masculine. In making the inconceivable believable he blurred the boundaries of gender so spectacularly that his style can never be truly defined but will be admired, referenced and missed forever.