The family of David Bowie have said they are "overwhelmed" by the public reaction to the death of the music legend. Bowie, who died on 10 January, following a secret 18-month battle with cancer. He was 69.
The tragic news of his death was announced by son Duncan Jones on social media, prompting an outpouring of grief as tributes poured in from around the world. Responding to the messages of support and sympathy, in a post on Bowie's official Facebook page, the family expressed their gratitude to the singer's legions of fans, adding that they "welcome everyone's celebration".
The message reads: "THANK YOU. The family of David Bowie is currently making arrangements for a private ceremony celebrating the memory of their beloved husband, father and friend. They ask once again that their privacy be respected at this most sensitive of times."
"We are overwhelmed by and grateful for the love and support shown throughout the world," it reads. "However, it is important to note that while the concerts and tributes planned for the coming weeks are all welcome, none are official memorials organized or endorsed by the family.
"Just as each and every one of us found something unique in David's music, we welcome everyone's celebration of his life as they see fit."
Fans of the star have paid emotional tributes to Bowie who was hailed as a global music icon. His childhood home was the focus of grief for thousands of fans who gathered to pay tribute to 'Brixton's Own Boy' after news of his death left the world in shock. A Ziggy Stardust mural painted by Australian street artist James Cochran, aka Jimmy C, has become the focus of fans' grief. The mural is around the corner from where he was born in Stansfield Road. Others painted their faces in the make-up of Aladdin Sane make-up by way of tribute.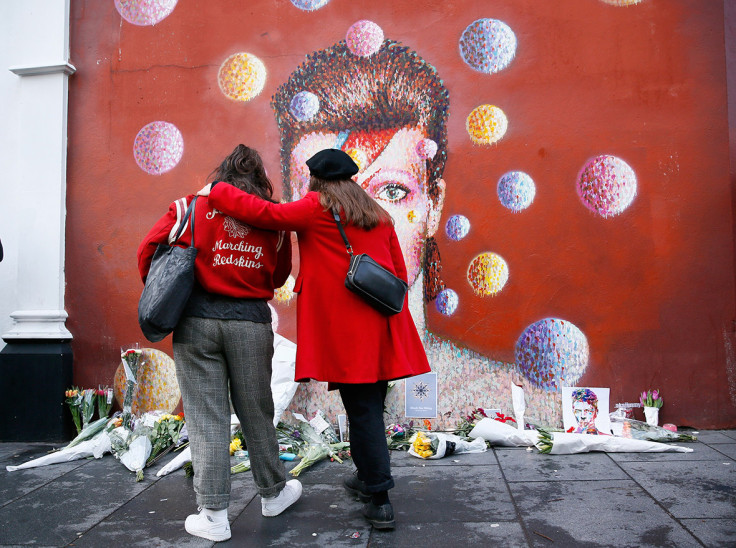 German fans have begun leaving tributes outside the apartment block in Berlin where Bowie lived in the 70s. From 1976 to 1978, he recorded some of his most experimental music while living at 155 Hauptstrasse in the Schoeneberg district. Germany's Foreign Ministry said Bowie is "now among heroes" and has thanked the one-time West Berlin resident for "helping to bring down the wall". Mayor Michael Mueller said: "Berliners are mourning a musical genius and one of their most famous fellow citizens."
Prime Minister David Cameron, model Kate Moss and musicians Billy Idol, Kanye West and Madonna were among the celebrities to pay their emotional tributes to the star. Hailing him as "the first rebel heart" she performed David Bowie's Rebel Rebel during her Rebel Heart tour in Houston, Texas. She collapsed on stage saying she'd been 'devastated' by the news that he had lost his secret battle with cancer this weekend.
Paying Tribute to My Favorite Rebel.❤️! In Houston‼️ Thank you!..........David Bowie. ❤️#rebelhearttour pic.twitter.com/9n3aQhOmpx

— Madonna (@Madonna) January 13, 2016
Writing on Facebook she said: "I'm devastated. David Bowie changed the course of my life forever. I never felt like I fit in growing up in Michigan. Like an oddball or a freak. I went to see him in concert at Cobo Arena in Detroit.
"I already had many of his records and was so inspired by the way he played with gender confusion. Was both masculine and feminine. Funny and serious. Clever and wise. His lyrics were witty ironic and mysterious."
She went on to say: "I found him so inspiring and innovative. Unique and provocative. A real genius. Thank you David Bowie. I owe you a lot. The world will miss you."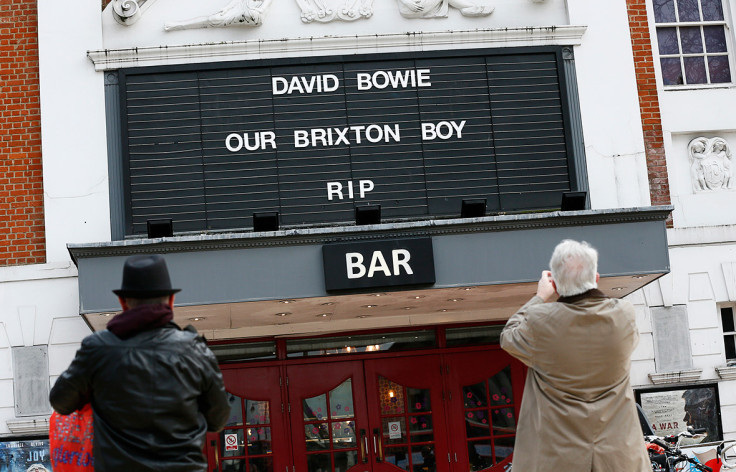 Next month's Brit Awards is dedicated to the London-born singer and will pay a musical tribute to the star. Bowie will also be honoured with a memorial concert at New York's Carnegie Hall on March 31. The concert to celebrate his musical legacy was announced hours before his death and tickets sold out within hours. Organisers said "up to 20 artists" including The Roots, Cyndi Lauper, The Mountain Goats, Heart's Ann Wilson, Perry Farrell and Jakob Dylan would perform Bowie classics.
It has been reported that Bowie was cremated shortly after his death. He is survived by his wife, Iman, and children Duncan and Alexandria.