When Dennis Wise was voted out of I'm A Celebrity last night (7 December), it was time to find out who the real "small man" of the show was— Wise or Declan Donnelly.
Since the start of the show, Dec, who is 5'5'" (1.65m) has been unsparing in his jokes about Wise's height, constantly referring to him as a "very small man".
Ant McPartlin, who had grown tired of Dec's wisecracks, had often reminded his co-host that he wasn't very tall himself.
As Wise came out of the camp to meet Ant and Dec for his exit interview, Ant wasted no time in revealing the fact to the viewers.
"We've had a long-running debate, someone in the studio thinks he's taller than you," said Ant to the 50-year-old footballer.
He told the two of them to stand back-to-back and it turns out that Wise, who stands at nearly 5'6" (1.68m), is slightly taller than Dec.
Ant couldn't contain his excitement at the big reveal and jumped around the set shouting: "I think he's done you. Dennis you've made my night."
Before this Dec had refused to believe that Wise could be taller than him. They had come face to face earlier when Wise was getting ready for a trial, but even then Dec had defended himself saying that Wise had been standing on a stepladder.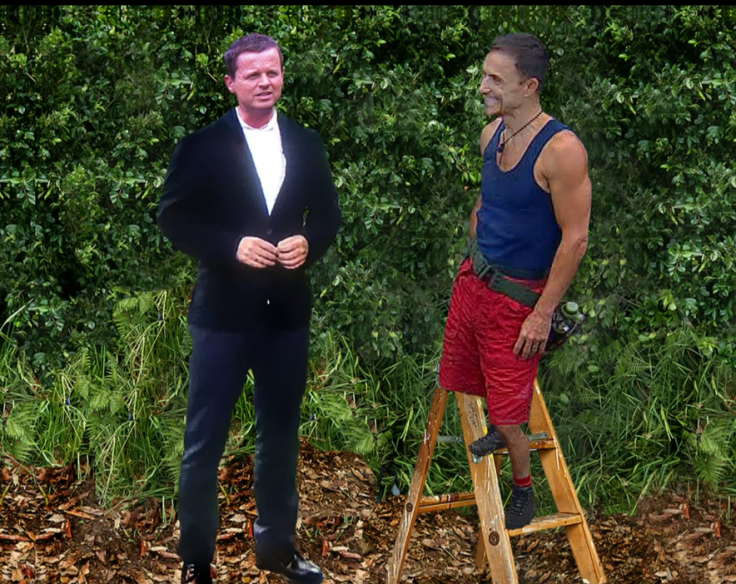 After the revelation last night, a sheepish Dec finally admitted defeat. He then told Wise: "When you watch it back fast forward the show. I may have mentioned it once or twice."
Viewers of the ITV reality show have loved the "small man" banter in this year's series.
A fan tweeted: "If you don't live for the 'Dennis Wise is a very small man' jokes then what are you even doing with your life?"
A second wrote:"Dec's Dennis Wise 'very small man' jokes are genuinely my favourite part of every episode #ImACeleb"
When Dec did not take a dig at Wise in one of the episodes, one Twitter user wrote: "Hello @imacelebrity I'd like to make a complaint. Dec never made any "Dennis Wise is a very small man" jokes tonight? Sort it out #imaceleb"
Another posted: "#imaceleb if Dec goes an episode without a Dennis Wise small man joke, the whole country will go into meltdown"
While fans have accused Wise of bullying fellow campmate Iain Lee and were happy to see him leave the show, they will surely miss Dec's quips about the footballer's height.
Since both Ant and Dec are Newcastle fans, some fans had also claimed that the ongoing joke had to do with Wise's controversial stint as Newcastle United's Executive Director of Football in 2008.