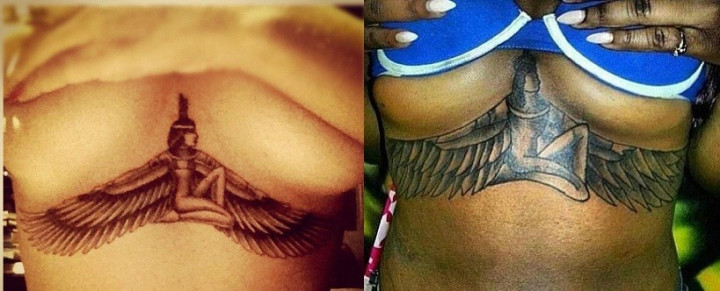 They say that imitation is the best form of flattery. And for one dedicated Rihanna fan, just dressing like the singer was simply not enough.
An unidentified woman has paid homage to the 24-year-old star by getting a tattoo identical to the Diamonds singer's breast inking.
When Rihanna unveiled the intricate design underneath her breasts in 2012, she revealed that it was in tribute to her late grandmother who passed away from cancer.
She told her 28 million Twitter followers: "Goddess Isis- Complete Woman - Model for future generations- #GRANGRANDOLLY - always in and on my heart #1love."
A photo showing off the woman's freshly tattooed ribcage has now gone viral, sparking online debate about Rihanna's negative influence on fans.
One viewer said "Rihanna and most if not all of these female celebrities are in no way shape or form positive role models for females ANYWHERE!"
Another: "Rihanna is an awful person to be influenced by, the f**k is wrong with people these days?"
This is not the first time a fan has chosen such a permanent way to express their love for a celebrity.
In December 2011, a young woman from Toronto made headlines when she inked US Rapper Drake's name in very big and very bold letters on her forehead.
Tatoo artist Kevin Campbell told VICE magazine: "She was really psyched about it. She had the sh**ty font all picked out on her iPhone ready to go and was pretty adamant about putting it on her forehead. She didn't say a word about what it meant to her."