Activist investor Carl Icahn has agreed to a deal with computer manufacturer Dell enabling him to discuss with fellow shareholders his plans to take over the company in return for not buying more shares.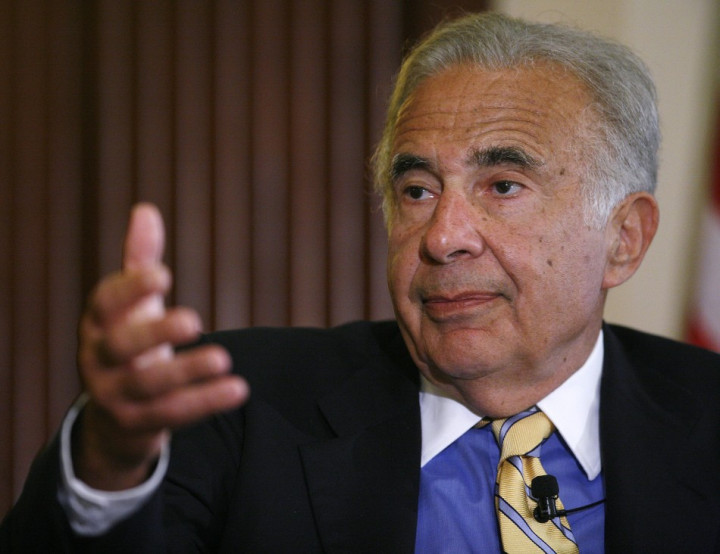 Icahn has agreed not to buy shares that would see his ownership in the company pass 10 percent, and although he can talk with them, he cannot sign deals with other shareholders whereby their joint ownership passes 15 percent.
The temporary limits in Icahn's ownership are so that he cannot mount a hostile takeover of Dell, but would be relaxed if his proposal of acquiring 58 percent of the computer maker was accepted. Essentially, Dell has bought itself some thinking time to access its options, stopping Icahn from buying more stock and gaining extra control of the company.
Icahn, who already owns a $1bn (£650m) stake in Dell, is part of a group of shareholders who are opposed to founder Michael Dell's plans to take the company private in a deal with private equity firm Silver Lake and aided with a $2bn loan from Microsoft.
Private equity group Blackstone and Icahn both made offers for Dell during the 45-day 'go-shop' period after co-founder Michael Dell first suggested a buyout, although both Blackstone and Icahn proposed keeping the company public; they have since had preliminary talks about working together on a joint takeover bid.
The deal set out this week between Dell and Icahn will last until either the current proposal from Michael Dell and Silverlake is accepted, a superior alternative (possibly from Icahn) is accepted, or until 14 January, 2014, meaning a buyout of the company may not happen until next year.
Undervalued
Meanwhile, the Dell co-founder is currently mulling over a counteroffer against Blackstone Group, which submitted a bid to buy the computer manufacturer for $14.25 a share (valuing the company at $25bn/£16.5bn), higher than Dell's own original offer of $13.65 a share, a figure that was criticised by investors for undervaluing the company at $24.4bn.
According to Bloomberg sources familiar with discussions between Michael Dell and Chinh Chu and David Johnson - the Blackstone executives overseeing its bid - Dell said he would be more likely to support their proposal if he retained an influential role at the company, preferably keeping his current position of CEO.
A second source believes Michael Dell is considering dropping out of his joint $13.65 per share bid with Silverlake (a deal boosted by a $2bn loan from Microsoft), and it is believed that Dell did not inform Silverlake of his recent meetings with Blackstone.
Dell's offer of $13.65 per share at first looked strong, given Dell's then price of $10.08, but media coverage of a potential buyout by Dell, Blackstone or billionaire investor Carl Icahn drove the price up to $14.07 as of 16 April.
Significant investments
Bolstering his plans to remain at the helm, Dell told employees in early April that the company anticipates "making significant investments in research and development, capital expenditures and personnel additions.
"This includes hiring additional R&D, services and sales personnel in order to extend the depth and breadth of our capabilities and to increase the number of customers to whom such services and solutions are provided."
The company founder added that it is "likely that we will need to make additional acquisitions to complete our transformation."