US President Donald Trump faced questions over his views on torture, abortion and immigration from UK media during a press conference with Prime Minister Theresa May.
Both May and Trump spoke of the "special relationship" between their two countries and stated their meeting had gone well, stressing a strengthening of ties between the US and UK, particularly on trade, defence and security.
The British prime minister also said the leaders had discussed and reaffirmed Trump's commitment to Nato, along with how to work together to defeat Islamic State (Isis).
May also revealed that Trump had been invited on a state visit to the United Kingdom to meet Queen Elizabeth II later this year.
However, the president faced tough questions from the foreign press, with the BBC's Laura Kuenssberg stating that Trump's his views on abortion, immigration and torture were "alarming" to people from the UK.
Trump responded: "That's your choice for question?" as he looked at May and joked "There goes that special relationship."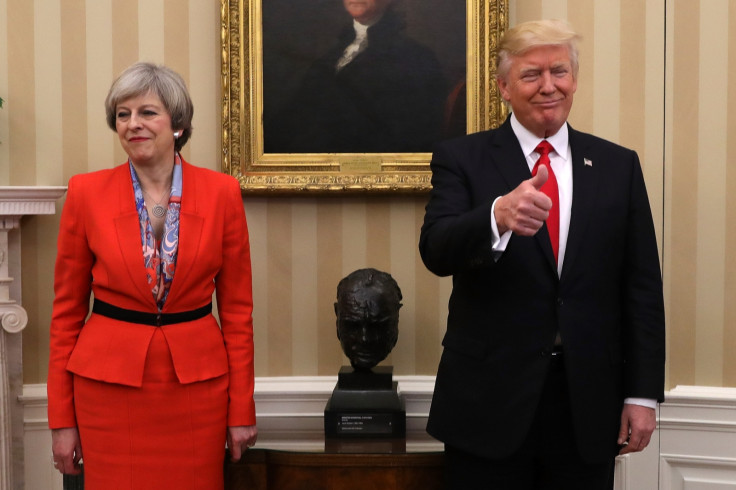 He affirmed his belief that torture works but that Defence Secretary James Mattis "does not necessarily agree and he can override me".
"I happen to feel it does work, but I am going with our leaders, and we are going to win with or without, but I do disagree."
May, also responding to the question, said: "I have been listening to the president and he has been listening to me.
"There will be times when we disagree, but the point of a special relationship is we can have that open and frank discussions, but I am clear there are many issues on which we agree."
Both May and Trump spoke about trade in their initial address, while Trump took the opportunity to praise Brexit when taking questions, stating he believed it would be "a wonderful thing" for the UK.
Speaking about the relationship between himself and May, in response to how they would get on being such different people, Trump said: "I'm not as brash as you might think.
"I can tell you we're going to get along very well. I'm a people person and I believe you are too Theresa. I believe we are going to have a fantastic relationship."
May, speaking less of the personal relationship between herself and Trump, instead opted to point out their similarities in politics.
"I think as the president said, we have already struck up a good relationship but you asked what we had in common – if you look at the approach we are both taking we want to put the interests of ordinary working people centre stage."
May also announced Trump had accepted a state visit to the UK, which is set to take place later this year.
The leaders are expected to continue discussions today, with May suggesting they will discuss Russia and Syria, among other things.