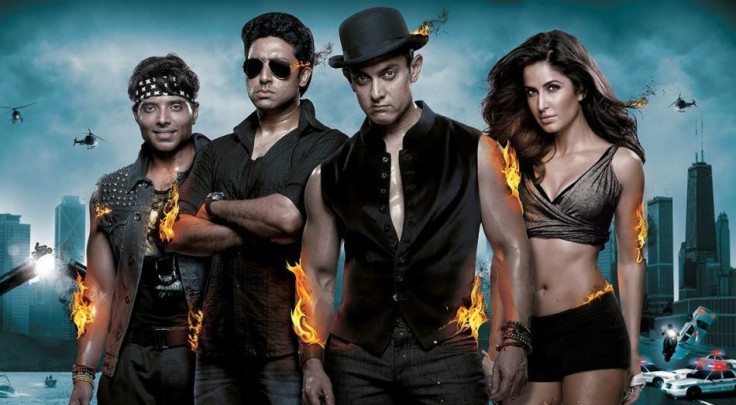 With Hrithik Roshan starrer, Krrish 3 breaking box office records and establishing itself alongside all-time hits Chennai Express and 3 Idiots, expectations from superstar Aamir Khan's next release, co-starring Katrina Kaif, Dhoom 3 have only become higher.
Krrish 3 has managed to enter the coveted '200cr Club' (a term used in Bollywood for films that have grossed over £25m) which till now only had two other films, the Shahrukh Khan starrer Chennai Express and Aamir Khan's 2009 hit, 3 Idiots. Now all eyes are on Aamir's Dhoom 3 which is slated for a 2013 Christmas release.
"The next big release is Aamir Khan's Dhoom 3 and the ball is in his court to ensure that the records created by Hrithik are surpassed," reported Bollywood Hungama citing sources, "He has to score bigger than Krrish 3 with his Dhoom 3 on opening day, opening weekend, opening week and then the lifetime run. Nothing less would suffice."
The Bollywood film industry folks as well as fans all over the world have huge expectations from Dhoom 3. This is primarily because:
• It is superstar Aamir Khan's next big commercial film (the actor is extremely selective about the roles he picks).
• It brings Katrina Kaif together with Aamir Khan on the big screen for the first time.
• It takes forward the immensely loved and popular 'Dhoom' movie franchise by Bollywood's premier film production house, Yashraj Films.
• Khan's previous films which were released around the same time of the year (including 2009 monster hit, 3 Idiots) have gone on to break box office records.
"Still, predictions will always be predictions. So many positive factors may promise a favourable result but eventually the content has to be lapped up by the audience to attain such mammoth totals. If that is absent, no reputation can be heavy-weight enough to ensure a long run for your film. Of course, over £14m is a given for Dhoom 3 but looking at the way Krrish 3 has marched towards the £25m mark, Aamir indeed has a task in hand to surpass this milestone. To reach there, factors over and above his superstar presence have to fall in place. If the content works, sky is the limit," the trade insider sums it up.
There has been tremendous buzz around this film ever since it was announced. Aamir Khan plays the antagonist who is an accomplished acrobat and thief. He has Katrina Kaif (looking smoldering hot as Aaliya, the acrobat diva) for company and the series regular Bachchan Jr. and Uday Chopra as the righteous men of law.