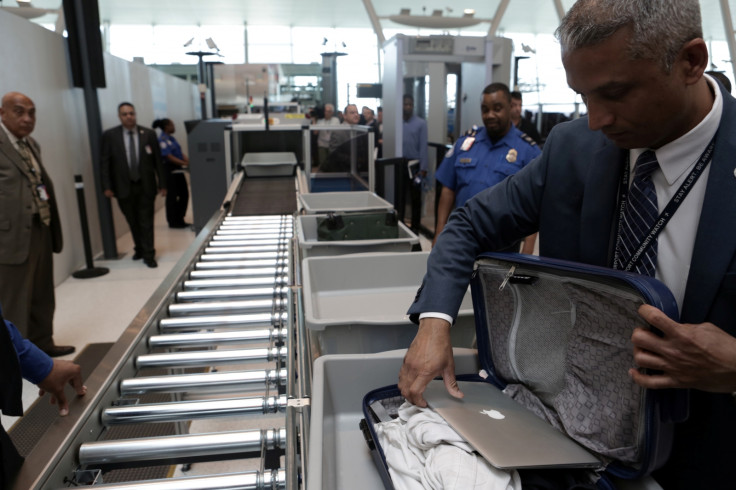 The US has unveiled enhanced aviation security measures for all international flights coming into the country and has held off expanding an in-cabin laptop ban. The new measures, set to go into effect as early as this summer, would require all passengers and personal electronic devices on US-bound flights to go through a more "extensive screening process", the Department of Homeland Security (DHS) said on Wednesday (28 June).
The security measures, which will be both seen and unseen, will affect 325,000 travelers on around 2,000 commercial flights arriving in the US daily. About 180 airlines flying out of 280 airports in 105 countries will be affected.
The new rules will include conducting "heightened screening" of all electronic devices, more thorough passenger screening, increasing security protocols around aircraft and within passenger areas among others.
In March, the US issued an in-cabin ban on laptops and other devices "larger than a smartphone" on flights to the US from Saudi Arabia, the United Arab Emirates, Qatar, Kuwait, Turkey, Morocco, Jordan and Egypt. The UK also followed suit and introduced similar rules for flights from six countries.
"We are not standing on the sidelines while fanatics hatch new plots," John Kelly, secretary of Homeland Security, said in a speech at the Center for a New American Security. "Make no mistake: our enemies are constantly working to find new methods for disguising explosives, recruiting insiders, and hijacking aircraft.
"We cannot play international whack-a-mole with each new threat. Instead, we must put in place new measures across the board to keep the traveling public safe and make it harder for terrorists to succeed."
The announcement comes after months of debate over whether the ban on laptops and other electronics would be expanded worldwide.
The DHS' new set of steps, designed to avoid the laptop ban, will require airlines and airports to deploy more sophisticated screening approaches, expanding canine screening and establishing more pre-clearance locations.
The carriers included in the original laptop ban could remove themselves from the ban if they agree to comply with the new standards.
However, airlines that do not or cannot comply could face other restrictions, including a ban on electronic devices on their airplanes or an overall suspension of their flights to the US.
DHS officials said they expect more than 99% of airlines would comply with the new rules. While airlines have 21 days to deploy increased explosive trace detection screening, they will have 120 days to comply with the other new security rules, Reuters reports.
"With this announcement, we send a clear message that inaction is not an option," Kelly said. "We expect all airlines will work with us to keep their aircraft, their crew and their passengers safe."