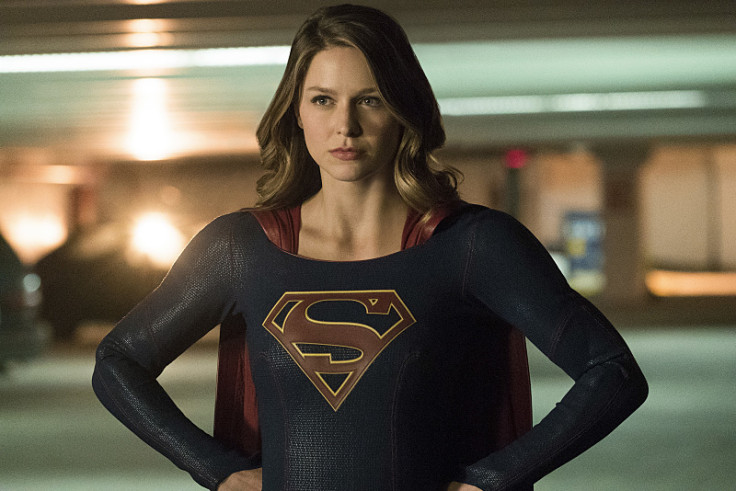 Supergirl viewers have already been treated to Superman (Tyler Hoechlin) making an appearance in the first few episodes in season two. But should fans gear up to see yet another iconic DC Comics hero rub shoulders with the Girl Of Steel herself, Kara Zor-El, in the near future?
If a certain reference in last night's episode The Darkest Place was anything to go by, then a cameo from Batman might even be on the cards.
While unknowingly discussing James Olsen's alter-ego Guardian and his dangerous do-gooding around National City with her friends, Kara (Melissa Benoist) mentioned that Superman had previously spent time with an equally human-sounding hero. As it turns out, said human also has a penchant for taking the law into his own hands, with Kara recollecting: "My cousin worked with a vigilante once ... Tons of gadgets, lots of demons. Vigilantes are nuts."
It's seems fair to assume that she's referring to Bruce Wayne aka Batman and her comment isn't the only time the Caped Crusader has been loosely referenced throughout the current season either. In the series' premiere, an unknown character could be heard jokingly remarking, "That's it, we're moving back to Gotham" after they were caught up in an explosive assasination attempt.
In more recent episodes, fans have been introduced to wider DC Comics characters such as Guardian, Lena Luthor and Maggie Sawyer (who was canonically linked with Batwoman in the source material), so it certainly wouldn't be out of the ordinary for the show to bring in more further down the line. However, given that Batman is one of DC's most iconic heroes alongside Clark Kent's Superman, it seems likely that it won't be for a at least a season or two yet just to spread out the excitement and enable the Supergirl team to fully explore it.
Executive producer Ali Adler previously explained that while crossing over certain storylines is something they like doing, they don't want to spread themselves too thin. "We have this beautiful history with DC, and I like that we get to borrow from this amazing, wonderful canon that we have," she told TVLine. "I feel like we have our hands full with the crossover we're shooting right now. I think people will be satisfied with how much crossover they're getting this season."
Supergirl continues every Monday at 8pm EST on The CW.
For more entertainment news follow A-List on Twitter @Alistinsider