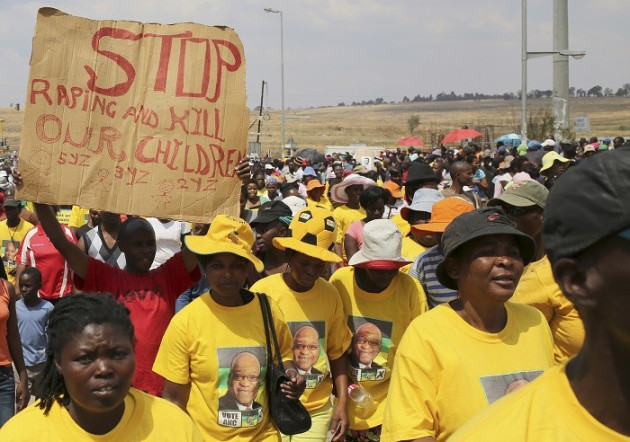 Four men have been charged over the rape and murder of two toddlers in the South African town of Diepsloot, north of Johannesburg.
The mutilated bodies of two girls, aged two and three, were found dumped in community toilets on Tuesday morning, three days after they went missing.
The case against the four Diepsloot men, aged between 29 and 47, who were charged at Pretoria Magistrate's Court on Friday, was postponed until Thursday, to allow them to seek legal aid.
A fifth suspect has also been arrested in Alexandra, after police issued a photo-fit image, sparking riots outside a police station in Diepsloot.
He is expected to be charged on Monday.
Police fired rubber bullets to disperse protesters throwing stones, burning tyres and blocking the road
Some carried placards with a police sketch of one of the suspects, others with the wording "Stop raping and killing our children".
Earlier this week, President Jacob Zuma urged people not to take the law into their own hands.
Speaking outside the girls' family home in Diepsloot on Friday, the head of Gauteng province, Nomvula Mokonyane, said: "This is something that must never happen to anybody's child."
According to the South African Press Association, the girls' funeral will be held on Saturday.
Following the discovery of the girls' bodies, Somali shop-owners told the BBC's Somali Service they had to flee the area until the police arrived while foreign-owned shops were being looted. South Africa has one of the highest murder rates in the world.
Around 16,000 people are killed each year, according to official statistics. Over half the 54,000 crimes against children reported in 2010-2011 were sexual offences, according to the UN children's organisation Unicef.
Most murders occur in densely populated and poverty-stricken areas with poor policing.
In a separate case, a mother was due to appear in court on Friday after her two young children were found dead in a field east of Johannesburg.
Watch the latest report from eNews Channel Africa: Murdered Diepsloot toddlers to be laid to rest