Disney's Zootropolis (known in the US as Zootopia) has decided to promote itself in an interesting way. The upcoming animated feature, set in a world where all sorts of animals do typically human jobs, has produced a series of spoof-like film posters inspired by 2015's most notable titles including Star Wars: The Force Awakens and Ex Machina.
The posters – Star Wars: The Furce Awakens, Ex Yakina, Cinderelephant, Giraffic World, Fifty Shades Of Prey and Straight Otter Compton – each have their own spin on the movie of choice's existing poster. Each film is in an interesting choice, particularly when considering that only half of them will arguably be of interest to the young audience Zootropolis is aimed at.
Whilst The Force Awakens, Cinderella and Jurassic World might attract little ones, more adult films such as eerie sci-fi drama Ex Machina, tough biopic Straight Outta Compton and infamous adaptation Fifty Shades Of Grey are likely to go over their heads. Is this an indication that Zootropolis will take on a more mature tone to that seen in previous Disney films such as Frozen or Big Hero 6? Here's hoping so.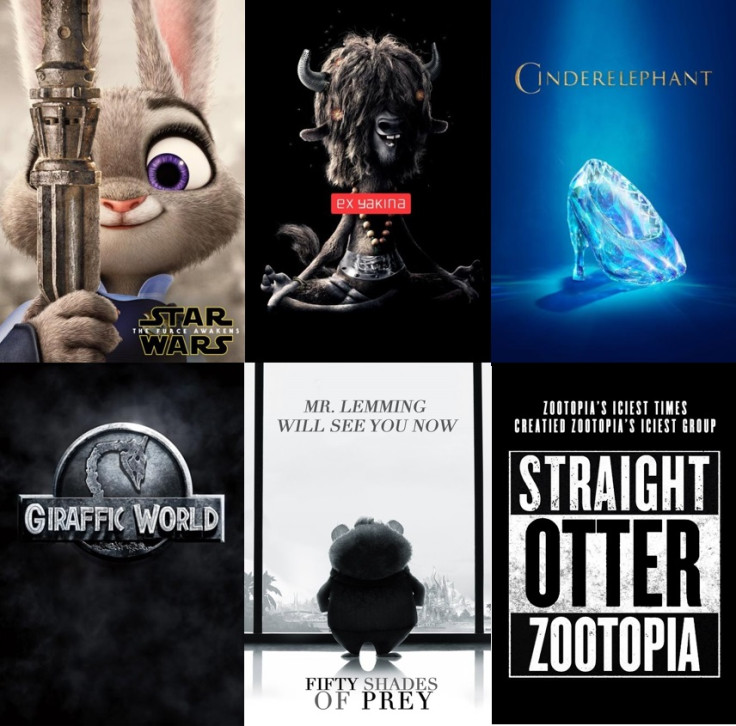 Other inspired titles they included in the promotional campaign but evidently didn't create posters for included Avengers: Age Of Bulltron, Pig Hero 6 and Pitch Purrfect 2. And it wasn't just the best movies of 2015 that they focused on either. They also released images of Zootropolis single covers too, inspired by tracks such as Adele's Hello, Taylor Swift's Bad Blood and Mark Ronson and Bruno Mars' Uptown Funk.
The film centres on rabbit police officer Judy Hopps (Ginnifer Goodwin) who learns the hard way that being the first bunny in the precinct alongside her big and tough animal colleagues is not as fun as she first imagined. Determined to prove herself, Hopps jumps at the chance to solve one particularly hard case, even if that does mean she has to partner up with smooth-talking scam-artist fox, Nick Wilde (Jason Bateman).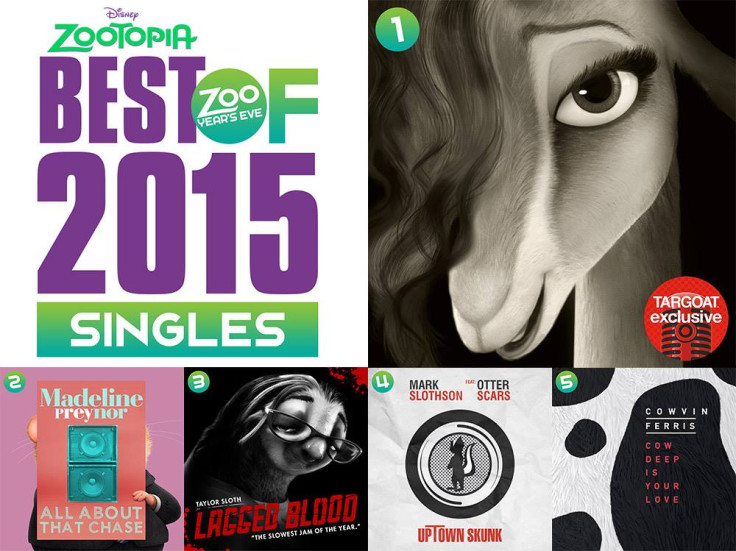 Other already confirmed cast members include Idris Elba (Luther), JK Simmons (Whiplash), Tommy Chong (of the Cheech and Chong variety), Alan Tudyk (Suburgatory) and Octavia Spencer (The Help). Shakira, Don Lake and Bonnie Hunt will also feature.
Tangled director Byron Howard and Wreck-It Ralph's Rich Moore have signed on to direct the picture, which already suggests the movie is going to be a huge success. But if you needed any more convincing, it is also being produced by Clark Spencer, best known for his work on titles such as Lilo & Stitch, Bolt and Winnie The Pooh. The film is scheduled to reach US cinemas on 4 March 2016 and UK screens a little later, on 25 March.
For more entertainment news follow A-List on Twitter @Alistinsider