Donald Trump tells widow of soldier killed in action: 'He knew what he signed up for'
Army Sergeant La David Johnson was one of four US soldiers killed by militants while on patrol in Niger.
US President Donald Trump has been slammed as "insensitive" after reportedly telling the widow of a soldier killed in an ambush in Niger that "he knew what he signed up for".
Trump, who has been criticised for not making contact sooner with the relatives of the four soldiers killed in the African state almost two weeks ago, telephoned the wife of Army Sergeant La David Johnson on Tuesday (17 October) to offer his condolences.
Congresswoman Frederica Wilson was travelling with Myeshia Johnson on the way to Miami International Airport to see his casket arrive home when the president called, she told CNN.
She said Trump told the serviceman's widow: "Well I guess he knew what he signed up for. But when it happens, it hurts anyway."
The Democratic Congresswoman from Florida added: "This is a young woman who has two young children, who is six months' pregnant with her third child [and] she has just lost her husband.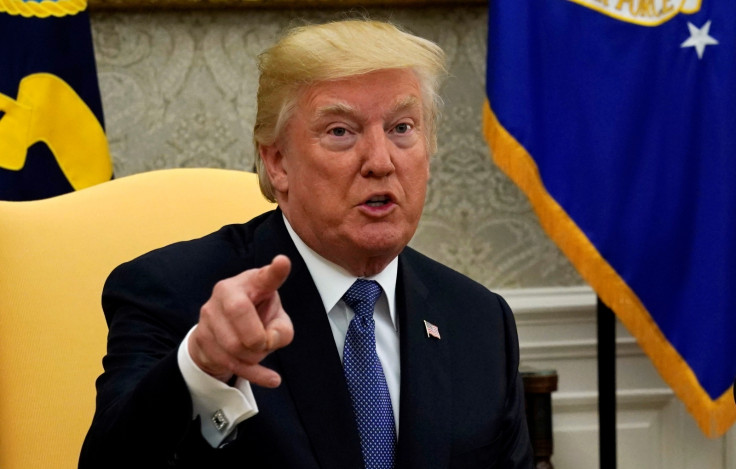 "She was just told that he cannot have an open-casket funeral which gives her all kinds of nightmares of how his body must look, how his face must look. And this is what the United States President says to her? That is not something you say to a grieving wife."
Sergeant Johnson was one of four US soldiers killed when a joint patrol of American and Niger forces was ambushed by militants believed linked to the Islamic State group.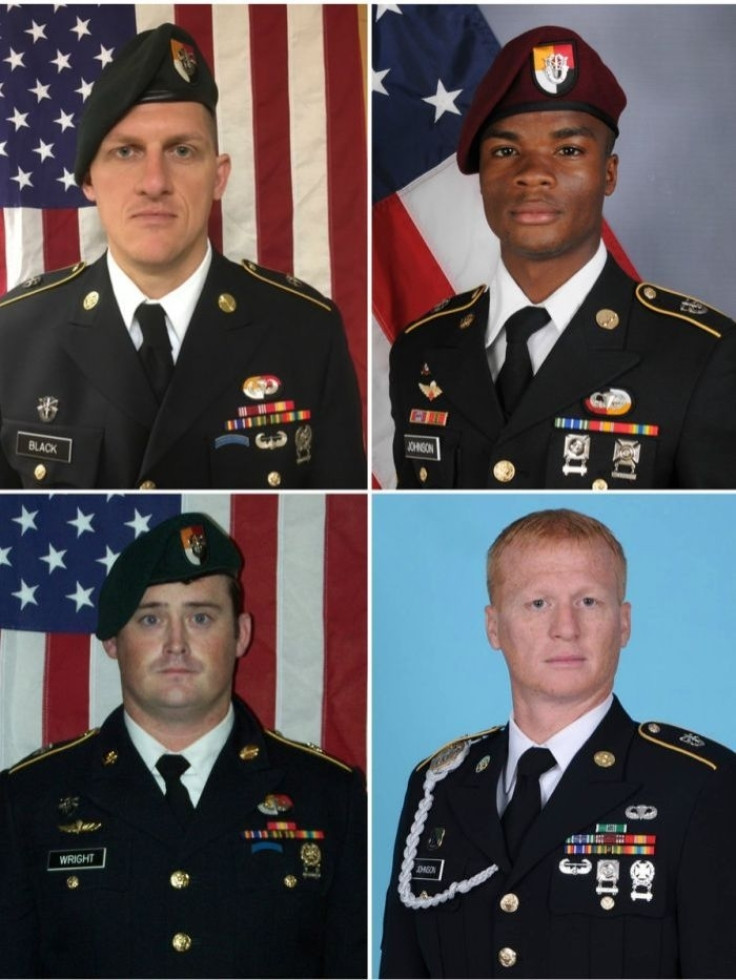 Clockwise from top left: Bryan Black, La David Johnson, Jeremiah Johnson and Dustin Wright were killed while serving in Niger.
Congresswoman Wilson said Mrs Johnson could not say anything in response to the President because she was crying.
Wilson added: "There were other family members in the car and they were all crying. All she said when it was time to hang up was 'thank you, goodbye'. I heard what he said because the phone was on speaker."
Later, posting on Twitter, Wilson branded the President's comments as "so insensitive".
Footage showed the casket of the Sergeant Johnson arriving at the airport, draped in the American flag. His widow can be seen leaning over it, her body shaking as she sobbed.
The president has been embroiled in political skirmishes over his response to the deaths of American soldiers.
Defending his record of contacting relatives of American soldiers killed in action, he said: "If you look at President Obama and other presidents, most of them didn't make calls. A lot of them didn't make calls. I like to call when it's appropriate, when I think I'm able to do it."
The comment triggered a backlash, with critics pointing out that the previous president made many calls to the families of slain servicemen and women, leading Trump to later soften his claim when challenged a second time.