Donald Trump may claim to be the most powerful person on the planet, but an amateur musician has managed to defeat the US president in a fierce six-year legal battle over the naming rights of an iPhone app.
iTrump – a tuition app developed to help people learn to play the trumpet – caught the attention of Donald Trump and his legal team after they identified the name could infringe on the empire of all things Trump.
Tom Scharfield, the 40-year-old engineer who created the app, received a letter from Trump's lawyers in 2011 – just one month after registering the $2.99 app on the iTunes store.
A Bloomberg report claimed lawyers said use of the name diluted the quality of "the famous" Trump mark and tarnished "the goodwill and reputation that Mr. Trump has built over the years" from his books and reality television show, The Apprentice.
With a clothing line, golf courses, hotels, real estate and a vast catalogue of everyday products that bear the Trump name it was clear he didn't anybody else to use it. However, Scharfeld wasn't afraid to fight the billionaire businessman and began studying trademark laws to represent himself in the courts after he rightly pointed out "the word trump has other meanings".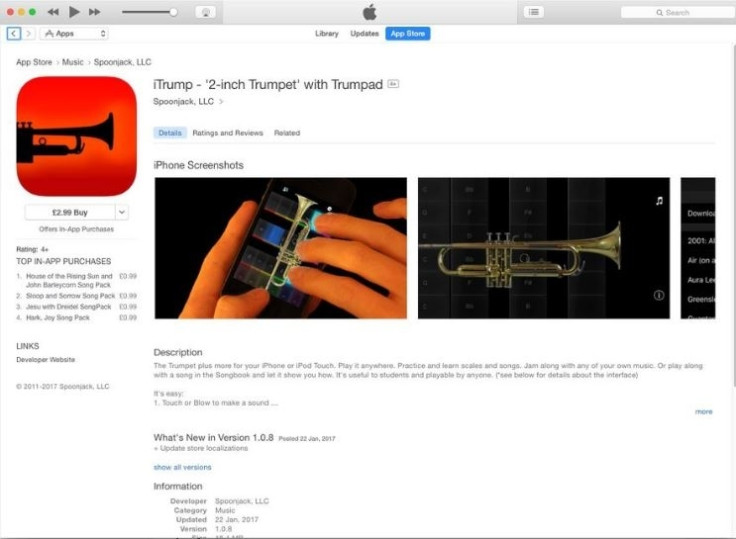 Scharfeld eventually won an early ruling from the trademark office in 2013 after it was found that his iTrump app focused on music education rather than anything associated with the tycoon's businesses. After winning, he decided to pursue Trump by seeking action that he couldn't exclusively use his name in relation to entertainment services.
On 11 August 2017 Trump lost a key trademark after it was ruled that the Trump Organisation could not own exclusive rights to anything associated with computer games, golf mobile apps and music streaming. This effectively ended the long legal fight and will now enable Scharfeld to spend time he has lost over the years in being able to market his app.