Double holiday tragedy in Cornwall as father and toddler are swept into sea
Rudy Bruynius and daughter McKayla were fishing from rocks when the big waves struck.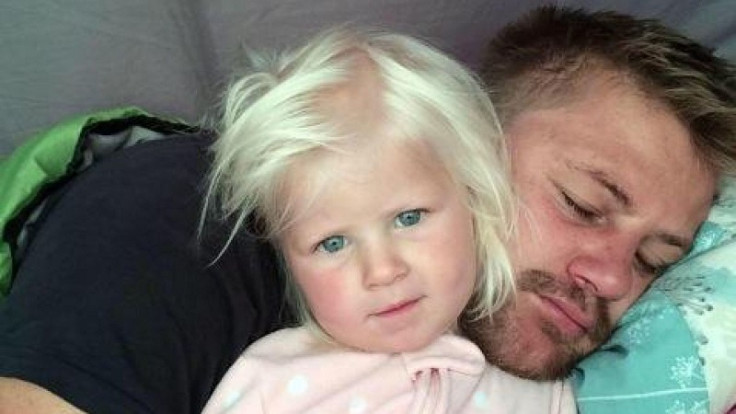 A family holiday turned to tragedy when a father and his two-year-old daughter were swept into the sea by a freak wave, an inquest has heard.
Rudy Bruynius, 33, was fishing off rocks at Fistral beach in Newquay, Cornwall during a camping trip in August 2016 with his wife Linda, their two sons and their daughter, McKayla.
The toddler was strapped into her pushchair when the rocks were unexpectedly struck by a wave. Their two older children were able to climb to safety. However, as Rudy Bruynius took McKayla out of her pushchair a second wave struck them, dragging them into the water.
Linda Bruynius from Morden, south London, described how the sudden change in weather led to tragedy.
"We were fishing off the rocks and within a short time the waves became bigger and started to splash us," she said, in a statement read to the court.
"We were totally shocked and totally wet and focused upon McKayla. My two boys started to move further up the rocks we were on. Rudy, McKayla and I were in the process of moving up the rock when a large wave washed us off the rock.
"There had been no time to say anything to Rudy when a second large wave hit us and dragged us into the water. Rudy had managed to get McKayla from the buggy and she was in his arms.
"I could hear Rudy screaming for help and I could hear the boys screaming for help. I glanced across and could no longer see McKayla in Rudy's arms. Rudy appeared to be floating in an upright position with his head back. I swam over to Rudy but he was unconscious."
Family devastated by tragedy
Paying tribute to her husband and daughter, Linda Bruynius said her family have been devastated by the tragedy. "I remember the shock at how quickly the weather conditions changed that day and the tragic effect it has had upon our family.
"Rudy was a loving husband and a loving father. He leaves a void that can never be filled.
"McKayla, our gorgeous and beautiful baby girl, is forever in our hearts, and the pain that myself and the boys feel at losing them both is indescribable."
Lifeguards fished the pair from the water but Rudy Bruynius, who was originally from South Africa, died in hospital on the evening of the tragedy on 19 August. McKayla died four days later.
Cornwall coroner Dr Emma Carlyon recorded a verdict of accidental death, Sky News reports.
© Copyright IBTimes 2023. All rights reserved.