Amal and George Clooney are expecting to welcome twins into the world in June. The couple's double baby joy revealed by The Talk's Julie Chen on the CBS show on Thursday (9 February).
"Beyoncé is not the only superstar expecting twins," Chen, 47, said. "Congratulations are in order for George and Amal Clooney!"
The talk show host said she had personally confirmed the happy news with the 55-year-old actor adding: "What we did find out is that the twins are due this June."
Rumours that the human rights lawyer is pregnant have been swirling since she appeared to be showing the first signs of a baby bump while attending an event in London.
The 39-year-old – who married Hollywood star George Clooney in 2014 – was photographed at a screening for The White Helmets in London on 9 January, wearing a loose fitting floral dress.
She was spotted with the Ocean's Eleven star wearing a loose-fitting sweater dress at Barcelona airport last week.
A source told InTouch in January that Amal "is pregnant with twins: a boy and a girl."
"When George and Amal found out it was twins they were surprised," the source said. "But also a little scared because they both had said that one was enough. But the news that it was a boy and a girl made them both really happy ... they can't believe in just a few months, they're going to have two babies."
The source added that despite their initial reservations, the couple, "feel like they've hit the family jackpot" after Amal fell pregnant after a successful round of IVF.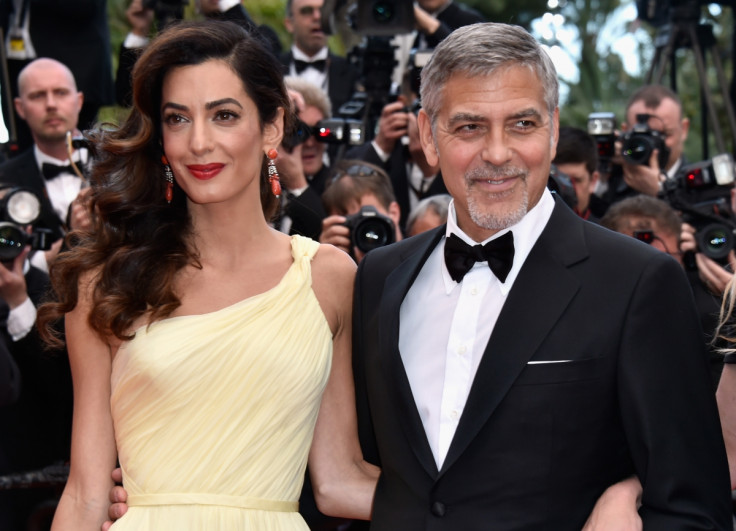 The notoriously private couple have been tight-lipped about the pregnancy and are not expected to make a grand public announcement in the style of Beyonce, who famously broke the internet when she announced she is also expecting twins.
But the first-time parents have reportedly been busy shopping to prepare for the arrival of their twins and are building an entire baby wing inside their $15m ($18.7m) home in Sonning, Berkshire. According to Mail Online the extensive baby wing will include a nursery, baby spa, playroom, library and even a mini baby pool.
"They are having so much fun looking at all the baby gadgets and getting everything ready for the twins. They're going to be amazing parents," the source added.
Once described as the eternal bachelor, Clooney tied the knot with Amal at a lavish wedding ceremony in Venice attended by celebrity friends Matt Damon, Brad Pitt, Angelina Jolie and U2 singer Bono.
Actress and model Rosie Huntington-Whiteley announced that she is also expecting her first child with Jason Statham on 9 February.
Messages of congratulations have been pouring in on social media for the expectant celebrity parents.