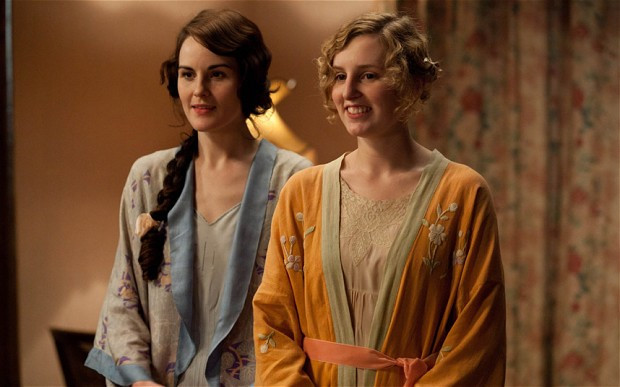 She has certainly endured her fair share of heartache and strife over the last five series but it appears that Downton Abbey will conclude with Lady Edith Crawley coming into her own. Actress Laura Carmichael, who plays the daughter of Earl Of Grantham Robert Crawley, has revealed that despite the tribulations her character has faced, the role of Lady Edith has been a joy to take on.
In the sixth series of ITV's period drama, which premiered earlier in September, Lady Edith is now the proud owner of a newspaper in London where she is building a life for herself away from her family and the drama that often surrounds Downton. Not everything straightforward though, as Lady Edith is being challenged by male employees who are not too thrilled to be managed by a woman.
Addressing the new position her character has found herself in, Carmichael told IBTimes UK: "[The theme of female emancipation] continues in this series. Because she's inherited this newspaper, she owns it and has male employees, some of whom don't like being bossed around by women.
"I have enjoyed playing that as she has felt like a modern character in that way. I love her many heartbreaks and having to deal with the Marigold issue and being brave, she's been a really fun character to play. The gift with Julian [Fellowes, series creator] is he always shows the motives behind the actions and that's such a joy to play. She's definitely found her feet in London and her journey through that is really fun."
Watch the Downton Abbey series six trailer:
In the second episode of the series, viewers will see Lady Edith stumble across some hurdles at the magazine while also being consumed by problems within the Crawley family unit. Elsewhere, Anna and Bates are struggling to conceive a baby but Lady Mary Crawley may have found a solution to the couple's problems in London. When asked if Anna and Bates will get their happy ending following this latest setback, Joanne Froggatt said: "I hope so. It's not going to be easily attained but we'll have to wait and see. It's not straight-forward but it never is, is it?"
Reflecting on her time on the show and the character she has played since 2010, the Golden Globe-winner explained: "I'm most proud of being a part of this show that people have really taken to their hearts and really invested in them. I'm proud of Anna and how she's handled herself through real adversity.
"I've loved playing her and she's been a lovely character to be with for the last six years. I'm proud that people have taken Anna and Bates to their hearts the way that they have because they weren't this glamorous couple. That was really touching that people really connected with them. What we've learnt is people like a slow-burn love story."
Downton Abbey returns with episode three on 4 October at 9pm on ITV.