Dr Dre has issued a statement apologising to "the women I've hurt". The music mogul's comments come following criticism that his newly released biopic Straight Outta Compton about the gangster-rap band N.W.A omits any mentions of the claims of alleged domestic violence.
Dr Dre did not address the specific accusations but admitted the failings of his youth, adding that he hopes to become a better man. "Twenty-five years ago I was a young man drinking too much and in over my head with no real structure in my life. However, none of this is an excuse for what I did.
"I've been married for 19 years and every day I'm working to be a better man for my family, seeking guidance along the way. I'm doing everything I can so I never resemble that man again. I apologize to the women I've hurt. I deeply regret what I did and know that it has forever impacted all of our lives," Dre told the New York Times in a statement.
The movie glosses over Dre's violent outbursts when he allegedly beat up three different women including former girlfriend Michel'le, fellow musician Tairrie B and hip-hop journalist Dee Barnes. He is alleged to have attacked Barnes at a nightclub in 1991 after objecting to a segment she hosted on N.W.A featuring Ice Cube, who had just left the group.
Barnes claimed Dre slammed her head against a wall, kicked her, stomped on her fingers and tried to throw her down a flight of stairs. Dre - real name Andre Young - pleaded no contest to criminal battery charges. He was reportedly sentenced to community service and probation, while a civil suit was settled out of court.
Asked about the attack at the time, Dre told Rolling Stone: "I just did it, you know. Ain't nothing you can do now by talking about it. Besides, it ain't no big thing - I just threw her through a door."
Two other women, Dre's former girlfriend Michel'le and musician Tairrie B, also claim he violently assaulted them. Michel'le dated Dre from the late 80s to early 90s and the two have an adult child together. She claims she was beaten by Dre throughout their relationship, and was left with black eyes, a cracked rib and scars.
Tairrie B reported suffering similar assaults revealing that Dre punched her twice in the face at a Grammy's after-party in 1990 for recording an insult track about him.
This week Ms Barnes published a story online about the 1991 incident following the release of Straight Outta Compton, which has become a box office hit.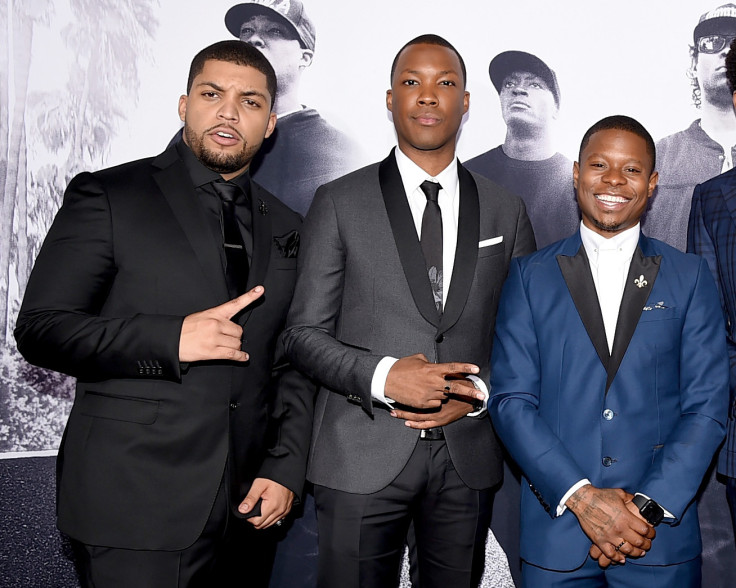 "Like many of the women that knew and worked with N.W.A., I found myself a casualty of Straight Outta Compton's revisionist history," she wrote on Gawker.
When Straight Outta Compton director F Gary Gray was asked why his film does not include the Barnes incident he said: "You can make five N.W.A movies with all the information that is out there... We couldn't get everything in."
Dre now works for Apple after the tech firm bought his Beats Electronics company for $3bn last year. In the light of the controversy Apple have defended the rapper in a statement.
"Dre has apologised for the mistakes he's made in the past and he's said that he's not the same person that he was 25 years ago," Apple said. "We believe his sincerity and after working with him for a year-and-a-half, we have every reason to believe that he has changed."
Dr. Dre, who co-founded Death Row Records was named the world's top earning musician by Forbes last year. He released an album this month called Compton: A Soundtrack to coincide with the release of the biopic.