A mother and her boyfriend have been found guilty causing or allowing the death of her four-month-old baby, who died after suffering serious brain injuries and 28 bone fractures.
Drug users Katherine Cox, 33, and Danny Shepherd, 25, are facing jail following the death of Eli Cox after he fell ill at their home in Minster on the Isle of Sheppey last April.
Emergency services were called the house when Eli stopped breathing after suffering a profound brain injury caused by being shaken and hitting his head. The baby never regained consciousness and died at Medway Maritime Hospital two weeks later on 27 April.
During his stay in hospital, a paediatrician noticed a series of bruises that were not believed to have been accidental and called the police.
A post-mortem revealed Eli had suffered least 28 bone fractures believed to have been sustained over a 10-week period. Police said the baby's injuries would have meant it "would have been obvious" that he was in pain in the weeks before his death.
Authorities later ruled that Shepard was the perpetrator of Eli's injuries, including the assault and subsequent brain injury that resulted in his death.
Traces of cocaine and amphetamine were also present in Eli's system.
Both Cox and Shepard denied taking drugs while looking after the four-month old, but officers later found five wraps of the amphetamine in their garden shed during a search.
The pair also denied any involvement in the baby's death but were convicted following a trial at Maidstone Crown Court.
Senior investigating officer detective inspector Ivan Beasley said: "The death of a child is never anything less than tragic but the circumstances behind Eli Cox's passing are especially upsetting for those of us who share a compassion for others.
"None of us will ever understand what compels people to cause harm to children, and it is unfortunately true to say that Eli suffered more than most and was robbed of his life before it had barely begun.
"Katherine Cox and Danny Shepherd maintained their innocence throughout, but the jury saw through their lies. Only they know the true extent of the abuse Eli was put through, which is simply unthinkable to most members of society, including parents who would do anything to protect their children from harm."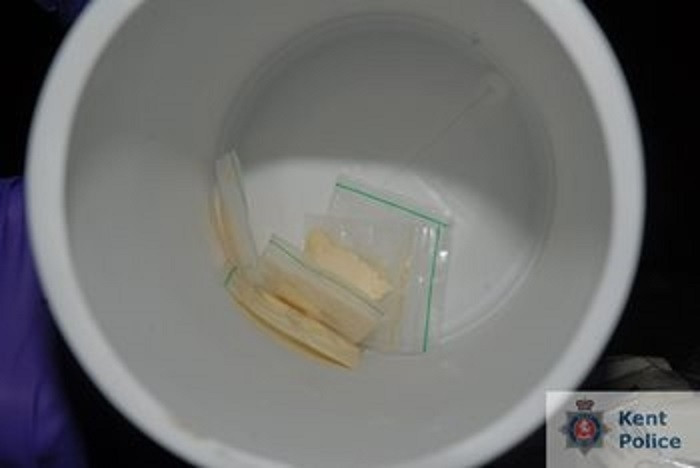 Libby Clark, from the CPS, added: "This has been a difficult case to prosecute due to the complex medical evidence and challenges in establishing the involvement of either or both of the defendants in relation to the fatal injury caused to Eli.
"When the trial started, our case was that either Danny Shepherd or Katherine Cox had caused Eli's injuries and the death, or were aware that there was a significant risk of serious physical harm being caused to him, and failed to take reasonable steps to prevent this.
"During the course of the trial and in light of the evidence given, it became possible to say that Danny Shepherd was the perpetrator of the injuries to Eli, including the assault which led to his death.
"The fatal injury and older fractures identified by one of the medical experts showed very significant similarities. This considerably undermined the defence case that they were caused by another person."
Both Cox and Shepard will be sentenced at a later date.