Are Dwayne Johnson and Vin Diesel in a fake feud to promote Fast 8 at Wrestlemania?
Fast and Furious 8 is scheduled to hit theatres on 14 April 2017.
Is it one action drama within another? A recent report has claimed Dwayne "The Rock" Johnson and Vin Diesel's feud, which has took the internet by storm, is nothing but a publicity gimmick to promote their upcoming action thriller Fast and Furious 8.
Gossip website Life & Style has claimed that the top Hollywood actors are faking their enmity to promote the eighth instalment of the franchise, which is scheduled to debut in 2017. "They are playing a huge prank, and it's all for publicity... The Rock convinced Vin to amp up the drama between them so they could turn it into a WWE match to help promote the April 2017 release of Fast 8," the website quoted a production source as saying.
Cinemablend reports the two are planning a huge promotional campaign for the action thriller and will use Wrestlemania as a platform. The sports entertainment event, which has millions of viewers, is scheduled for 2 April next year, just two weeks before Fast 8's premiere.
If reports are to be believed, the square-off between the musclemen from Hollywood will be a huge boost for the movie, which will obviously be hit by the absence of the late Paul Walker.
Meanwhile, the online rivalry between Johnson and Diesel continues. Recently, the 44-year old grappler announced the wrapping up of filming for Fast and Furious 8 and thanked all his lead co-stars and producers, leaving out only one name — Diesel.
The XXX actor, who also serves as the producer for F&F franchise, took to Facebook on Friday (19 August) to praise The Rock. "The reason we brought Dwayne Johnson into Fast 5 was because of you", he said.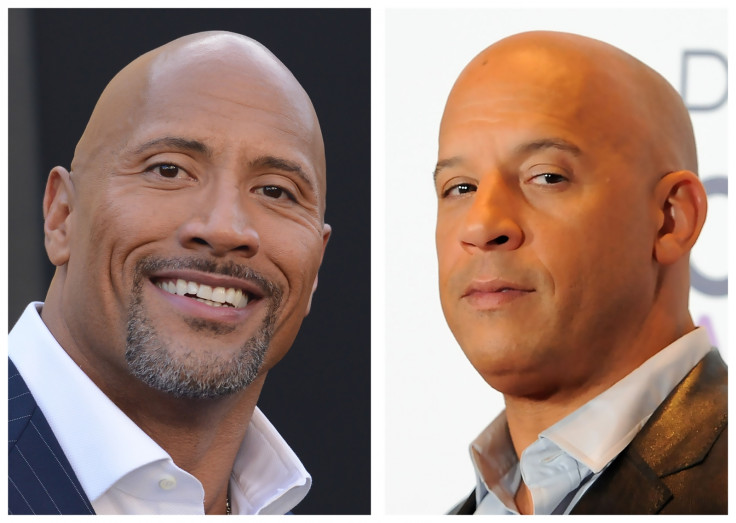 On 8 August, the Ballers actor went on a social media rant, calling one of his male co-stars "chicken s**t candy asses" on a controversial Instagram post. "The ones that don't are too chicken s**t to do anything about it anyway. Candy asses. When you watch this movie next April and it seems like I'm not acting in some of these scenes and my blood is legit boiling — you're right," he wrote.
Jason Statham has stayed away from the online feud. "I stay out of any bickering or any troubles that people have. I have nothing to do with it and I don't want any part of it," he told People.
© Copyright IBTimes 2023. All rights reserved.