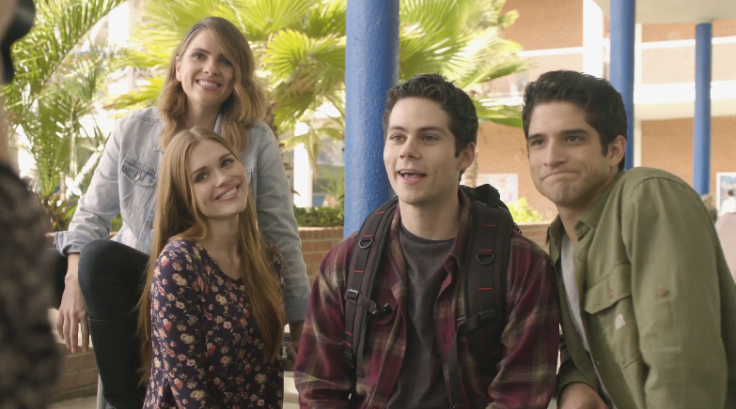 Fan-favourite Supernatural series Teen Wolf is coming to an end this summer. The cast of the MTV series gathered on-set to celebrate filming their milestone 100th episode, which is also the show's final episode.
The image shows actors Tyler Posey (who plays Scott McCall), Dylan Sprayberry (plays Liam Dunbar), Shelley Hennig (plays Malia Tate), Holland Roden (plays Lydia Martin), Khylin Rhambo (plays Mason Hewitt) and others posing in front of a giant cake with a 100 prop on it.
Other actors we can see in the photos are Melissa Ponzio (who plays Melissa McCall), Ryan Kelley (plays Jordan Parrish), Susan Walters (plays Natalie Martin), Linden Ashby (plays Sheriff Stilinski), Gideon Emery (plays Deucalion), Ian Bohen (Peter Hale), Sibongile Mlambo, Froy Gutierrez, and Andrew Matarazzo.
However, missing from the photo is actor Dylan O'Brien, who plays the lovable character Stiles Stilinski, and this could be a hint at the grim fate awaiting his character. The showrunner previously told Entertainment Weekly that O'Brien is not confirmed to return, adding that Stiles' future "remains to be seen". Jeff Davis said the question that fans should be asking is, "Is this the end of Stiles' character with Teen Wolf?"
Teen Wolf season 6 aired its winter finale episode on 31 January, where Scott, Stiles and his team are successful in diverting the Ghost Riders from Beacon Hills; Scott, Stiles, and Lydia were all headed off to college. According to MTV, the show will return for the second half of season 6 and its final 10 episodes in the summer of 2017.
According to Davis, Teen Wolf season 6B will be about Scott and his friends becoming outsiders again. He told EW, "In 6B, it all goes back to Scott's character and where Scott would be going from here, finally going from teen wolf to man wolf. It's really his evolution as a character, from a naive lovestruck innocent kid to the leader of a supernatural underground, Beacon Hills. 6B is very much about Scott and his friends becoming outsiders again, becoming pariahs, and about fear of the other, fear of the outsider, which is also a reflection of our current cultural political climate."