During its E3 press conference Ubisoft showed off an online co-operative squad-based cover shooter bearing the good marketable name of Tom Clancy...
That is a statement that could easily have been made at any E3 over the past few years and was applicable once again as the French gaming giant ended its 2015 press event with Tom Clancy's Ghost Recon Wildlands.
Wildlands is all of the above but also a reinvention of the Ghost Recon series, setting the action in a varied open world and drawing comparisons to Tom Clancy's The Division, Far Cry and Assassin's Creed - all Ubisoft series.
It really begs the question: Are Ubisoft taking the piss?
Last year new Ubisoft IP Watch Dogs and The Crew each took place in open worlds with maps gradually revealed through towers that need to be found/explored. It has been a commonplace feature in the Assassin's Creed games since the series debuted in 2007.
Towers already worked their way into the Far Cry series (where they worked and made a lot more sense) and were present again in Far Cry 4 last year.
This raised the issue of Ubisoft increasingly relying on a homogenised, conveyor-belt approach to the production of their biggest hitters. They struck big with the Assassin's Creed formula and so that formula slowly sowed its seeds elsewhere – making all Ubisoft games feel similar even if their content and themes were wildly different.
Ghost Recon Wildlands looks like that notion taken to an extreme. Put the two games side-by-side and Wildlands would make for an entirely plausible sequel to The Division, which would be perfectly fine if Ubisoft Massive's game had already been released.
Ubisoft know what they're doing and it's hard to believe they think gamers are wilfully ignorant enough to have not noticed what is happening. Of course Wildlands could yet prove to be a good game, as could The Division, but the problem isn't any individual game. It's the brazen and lazy approach they represent.
What exactly will buck this Ubisoft trend? Assassin's Creed Unity was beset with negativity after glitches and bugs plagued last year's historical action adventure, which tarnished the series (however briefly).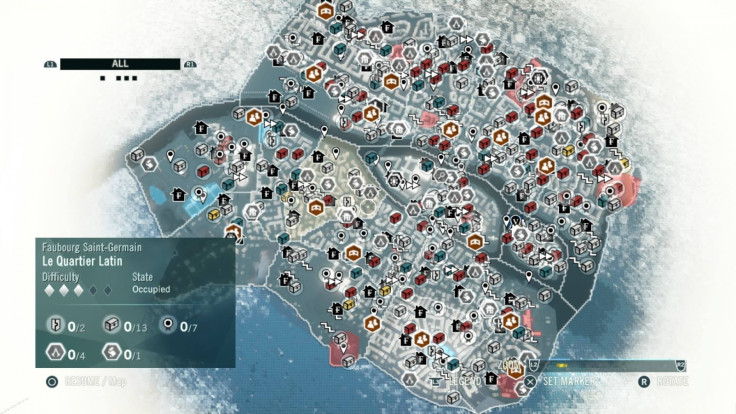 As humble and willing to own up to their mistakes as the developers at Ubisoft Montreal have been, the series remains a big seller and still will sell big later this year with Syndicate. As long as that bottom line remains unchanged then this trend won't end.
For Ubisoft to realise and break their own cookie cutter mould, a perfectly functional game of its variety needs to be more heavily criticised for its reliance on the tropes that have been milked dry, driven into the ground, shoved in our face - choose your cliché.
How long it takes for critics to tire of open worlds, laden mini maps, scalable towers and Tom sodding Clancy however, is probably wildly different to how long it might take for Joe Gamer's interest to begin to wane.
Both critical response and gamers voting with their wallets will aid in sparking some life into Ubisoft's creativity. Thankfully however, there's still some life there, and reason for hope. Despite the soul-sapping Ghost Recon reveal, the publisher did also reveal For Honor – an intriguing multiplayer sword combat game that thankfully doesn't appear to have a mini map or tower in sight.
For all the latest video game news follow us on Twitter @IBTGamesUK.