E3 2016: For Honor campaign gameplay debuts at Ubisoft press conference
For Honor was one of the stars of the show at Ubisoft's E3 2016 press conference, showing up for a lengthy presentation during which Ubisoft debuted a new trailer and offered a fresh look at gameplay. Ubisoft recently announced that the game will launch on 14 February 2017.
For Honor focuses on hand-to-hand battles between groups of knights, samurai warriors and vikings - with 4 on 4 online multiplayer, which debuted last year. It puts an emphasis on impactful sword fights which the developers hope are depicted realistically, with heavy weaponry feeling as such with blocks and parries.
The new gameplay demo depicts a level from the game's campaign, with the player cast as a Viking raider as he and his kin attack a Samurai stronghold in search of food. The player character mows down a few lesser soldiers before encountering a larger enemy unit, which activates a one-on-one fight.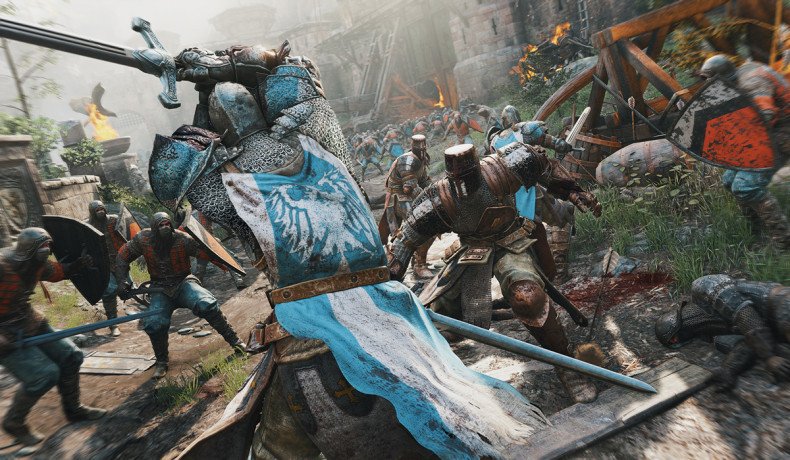 It's during this fight that we get a sense of the deeper melee combat mechanics, which emphasises dodges and counters. The player uses the right analogue stick to switch between stances to either match the opponent (and therefore block) or attack a side of their body they're not protecting.
An official synopsis reads: "Enter the chaos of a raging war as a bold knight, brutal viking, or mysterious samurai, three of the greatest warrior legacies. For Honor is a fast-paced, competitive experience mixing skill, strategy, and team play with visceral melee combat. The Art of Battle, For Honor's innovative control system, puts you in total control of your heroes, each with distinct skills and weapons, as you fight for land, glory, and honour. As a skilled warrior on an intense, believable battleground, you annihilate all soldiers, archers, and opposing heroes who stand in your way."
For Honor was announced at during Ubisoft's keynote last year, proving a popular announcement at the show.