EA Sports Fifa 16: Best free-kick takers surface ahead of game's release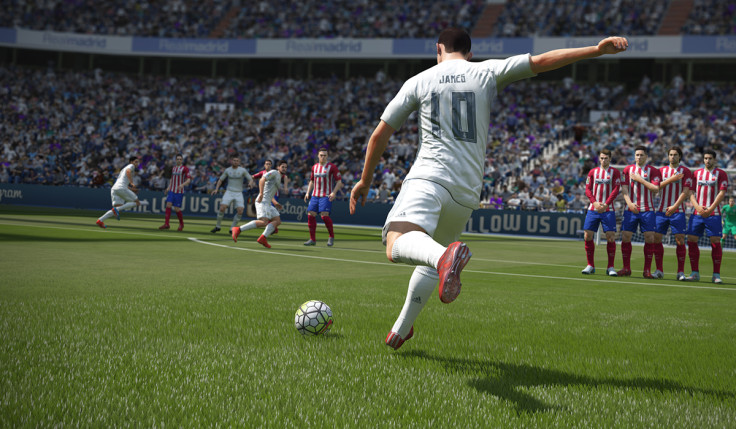 Those looking forward to playing EA Sports' Fifa 16can now check out the list of top-ranked players with respect to taking free kicks in the game. These players will be available for drafting, to give gamers a realistic chance of scoring goals whenever a free kick is announced.
This list includes players such as Marco Reus (Germany), Juan Arango (Mexico) and Lionel Messi (Spain). Surprisingly, the top-10 free-kick takers ratings are dominated by Hakan Calhanoglu (Germany) and not Lionel Messi. The full list of players is given below:
Rank Player
1 Hakan Calhanoglu (Germany)
2 Andrea Pirlo (MLS)
3 Zlatko Junuzovic (Germany)
4 Juan Arango (Mexico)
5 Lionel Messi (Spain)
6 Memphis Depay (England)
7 Rasmus Elm (Sweden)
8 Mehmet Ekici (Turkey)
9 Alban Meha (Turkey)
10 Marco Reus (Germany)
The latest list follows the list of the best goalkeepers that also surfaced recently. These ratings are led by Manuel Neuer (Germany). Full ratings can be viewed here.
EA Sports Fifa 16 is set to be released across Xbox One, Xbox 360, PS4, PS3 and PCs on 22 September. But owners of Xbox One and Xbox 360 consoles get a reduced functionality set, with multiple features omitted. Users of these gaming devices will not get the following functionality:
FIFA Interactive World Cup
Match Lobbies
Secondary English commentary with Clyde Tyldesley and Andy Townsend
Creation Centre
Custom Music and Chants
In-game presentation with Jeff Stelling
However, those on Xbox 360 and PS3 can still check out the below-mentioned new functionality list:
Innovative Gameplay:
Defend as a unit
No Touch Dribbling
Moments of Magic
Passing with Precision
Better control/co-ordination in midfield
Enhanced player skills
Better defensive tactics
Enhanced ball tackling skills
Better striking skills.
[Source: EA Sports].
© Copyright IBTimes 2023. All rights reserved.