The son of a Congolese woman shot dead in North London has broken down in tears after being told his mother was killed.
The victim, named locally as Anny Ekofo, and another man, believed to be her nephew
Berville Ekofo Botamba, died on Thursday morning (15 September) in a shooting at Elmhurst Crescent in East Finchley.
Family members sobbed at the scene after gathering to support each other.
A man thought to be the victim's son arrived at the housing estate at about 10.45am, apparently unaware his mother had been killed.
"Don't say my mum is dead," he said to one family member after being told. "My mum is dead?"
Through tears he shouted "No!" as he addressed the group in a foreign language before seemingly facing the media and saying "My mum is dead".
A woman wearing a traditional African dress wailed "sister" when she arrived at the address before bending over, doubled with grief.
Earlier witnesses described dozens of police cars and other emergency vehicles arriving at the scene.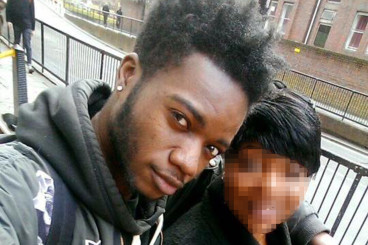 "My alarm goes off at 6.30 so I was asleep when it happened," said estate resident Elma Nori. "When I woke up all I could see was the police. There must have been 15-20 of them all with their lights flashing. I thought something major must have happened because of the number of cars I saw.
"There's no trouble here, it's a good place to live. I feel safe. That's why it was a shock to me to find out what happened."
Another resident could not believe what happened. Jamie Holdclark lives with two other housemates in a nearby flat. He said:"I have lived her for three years. It is a peaceful area. I woke up at 7.15 and by then there were three ambulances and a lot of police cars. I'm in shock. I can't believe it really."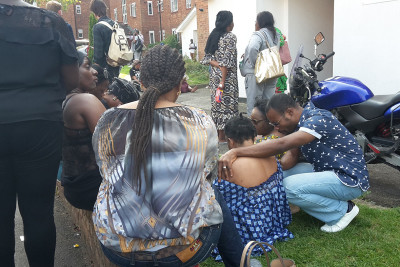 The Met Police has launched a murder investigation but no arrests have been made. "Police were called by London Ambulance Service at approximately 6:25am on Thursday, 15 September, to reports of two people injured at an address in Elmshurst Crescent," it said in a statement.
"Officers attended and found two people - a man and a woman (no further details) - suffering gunshot injuries. Both were pronounced dead at the scene. There are no reports of any other injuries. The Homicide and Major Crime Command are investigating. There have been no arrests."
Anyone with information is asked to contact the incident room on 020 8358 0300, or to remain anonymous, call Crimestoppers on 0800 555 111.