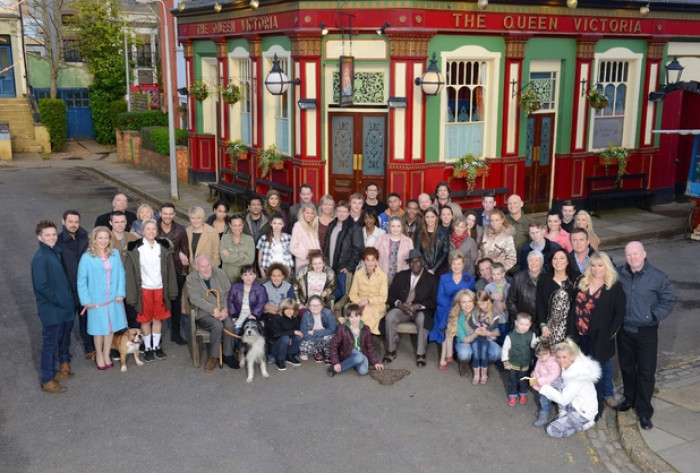 EastEnders is "almost twice" as white as the real East End of London and does not accurately portray the diversity of Britain, a BBC chief has claimed.
Acting head of the BBC Trust Diane Coyle pointed to the corportation's Audience Council for England study that showed London's E17 post code had half as many white people living their in real life than did in the show's fictional E20.
Coyle said although the BBC's longest running soap is fictional it should still "do more in its popular output to provide an authentic portrayal of life in modern Britain," reported the Daily Mail.
Comparing Walthamstow in east London with Walford - the home of EastEnders, which itself was based on Fassett Square, a residential Victorian square built in the early 1860s, in Hackney, east London, Coyle said: "The Audience Council figures suggested that there are almost twice as many white people living in fictional E20 as in real life E17, while the population of EastEnders tends to be younger than their real life counterparts and more likely to have been born in the UK."
Her comments come as actor Lenny Henry prepares to address members of the Culture, Media and Sport select committee as part of their inquiry into the corporation's future.
Launching a campaign for more ethnic minority actors to appear on screen, Henry said in April: "At some point soon there's going to be a campaign and we want everybody to get behind it, write letters to parliament, write letters to government, write letters to your MP and say we think it's time there was a change."
A BBC spokeswoman said: "Diversity is an important issue and last week we announced plans in place to ensure the BBC of the future represents every family and community in the UK.
"In the next three years we want to see on-air BAME (Black, Asian and minority ethnic) portrayal increase from 10.4% to 15%."
Director-general Tony Hall has also announced the BBC had earmarked a £2.1 million "diversity creative talent fund" to help fast-track shows by ethnic minority talent.