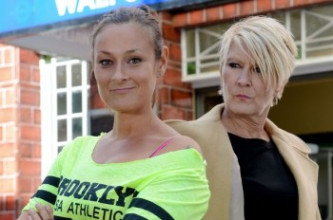 EastEnders newcomer Luisa Bradshaw-White has branded the rollout of anti-gay legislation across much of Africa as 'absurd'.
The 37-year-old actress, who plays Tina Carter on the BBC soap, said it was disappointing that the homophobic crackdowns were still existent in today's society.
"Ban the Gays!" she told IBTimes UK at the National Television Awards. "I just find the whole thing absolutely absurd these days that people are still shocked about homosexuals. I really am."
Bradshaw-White joined the EastEnders cast in November 2013 as the lesbian younger sister of Shirley and Mick Carter.
But according to the soap star, whose previous screen credits include roles in This Life and Holby City, Tina doesn't let her sexuality define who she is.
"When the executive producer asked me to do this and asked my character to be gay, he wanted to do something really different," she said.
"Every one [of the TV dramas ] seems to have the gay character, the black one and he was like 'no let's make this character a really brilliant character- Oh and she's gay'. So that's what we're doing."
Her comments come just weeks after the controversial anti-gay bill was passed into law by Nigerian president Goodluck Jonathan, tightening restrictions on homosexual groups.
The Same Sex Marriage (Prohibition) Bill 2013 imposes prison sentences of up to 14 years on those found guilty of involvement in gay organisations.
Uganda's president Yoweri Museveni blocked a similar bill, insisting it was not a priority.
Meanwhile Russian President Vladimir Putin has also come under fire after passing a new law to ban homosexual 'propaganda'.
The ban will prevent anyone from giving out information about homosexuality to people under the age of 18 at the upcoming Winter Olympics in Sochi..