The Ebola death councillors offering therapy to stem trauma in Sierra Leone
IBTimes UK meets the survivors acting as a "councillor" to help other Ebola patients battle depression.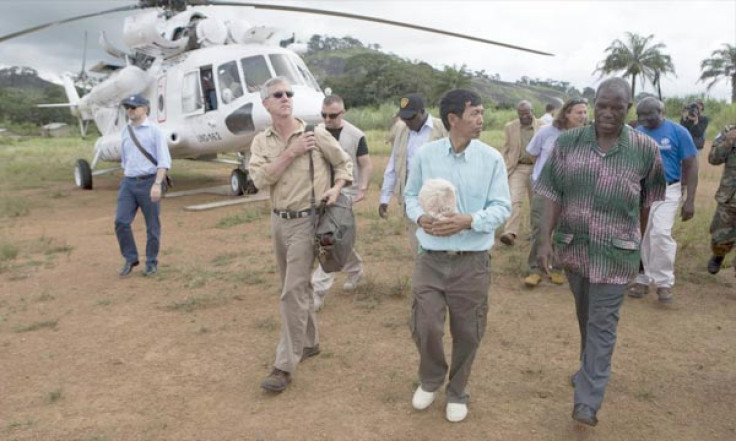 Two months ago, Monjama was lying in bed, clinging on to life with a drip in her arm and only a slim chance of pulling through. The 25-year-old became infected with Ebola when the family she was doing housekeeping for offered shelter to a cleric, who was feeling unwell. The religious man died, but Monjama survived.
Now fully recovered, the uneducated young women has become part of the first group of Ebola survivors to offer psychotherapy to deal with the trauma left by the virus in Sierra Leone, where an epidemic of stigmatisation has contributed to its spread and led to mental distress.
Last week, Monjama and another local survivor, Salamatu, also 25, started addressing psychosocial issues around the outbreak by acting as a "councillor" to help Ebola patients battle depression.
"A big problem with recovering patients is depression. People are dying everywhere around those patients [who] also face the stigma when they go back home," explains emergency medical coordinator Luca Rolla, who helps run the charity's counselling project.
"In Sierra Leone you don't have many psychologists who can assist you mentally. No one better than the survivors knows what it feels like to have Ebola, to be in a bed with those symptoms and what being in that bed with Ebola represents."
There is only one trained - but semi-retired - psychiatrist serving Sierra Leone's four million people, a nation that suffered one of the most brutal civil wars in Africa and is bearing the brunt of Ebola with a death toll that passed 1,760 this week.
While testing positive for Ebola is often a death sentence in Sierra Leone, Mr Rolla explains that simply being suspected of having contracted the virus can lead families and even whole communities to abandon a person, causing severe mental suffering.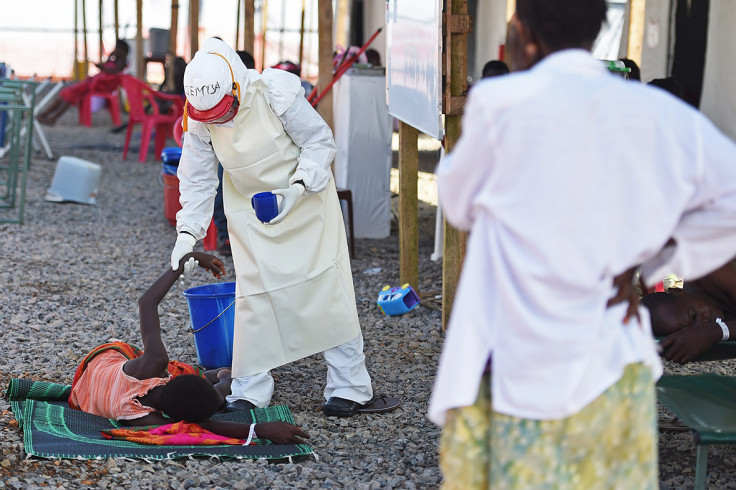 Having no formal training, the new "councillors" are the first uncertified therapists to start working at the emergency Lakka Ebola Treatment Center, a 22-bed medical facility that received a £1 million grant from the British Department for International Development (DfID). The centre has already treated around 170 patients since opening on 18 September, but the average death rate of patients there is high - around 70%.
In the coastal town of Lakka, the medical staff is hopeful Monjama and her friend Salamatu will be part of a growing programme of local "outreach activities" with survivors and their families "because they are the demonstration that there is no reason to be stigmatised", the charity says.
Monjama, who lives close to the hospital in a derelict building, was brought up in extreme poverty and did housekeeping jobs for other families, but other survivors are also facing unemployment as the fallout from Ebola is expected to push the country into recession.
"There are a lot of unemployed people, so if a survivor likes the idea and has interpersonal skills, we invite them to close the cycle and give them another option by becoming a councillor," Mr Rolla told IBTimes UK.
However, the medical staff is aware the cheerful young woman does not understand exactly the significance of her role and the importance it could have in the longer term.
"Because they lived in very poor environments, none of these young women has received a proper education and they only speak their local language [Sherbro and Krio]. They don't know of the concept of psychotherapy and don't understand the value of working as a "councillor"," the medical coordinator explained.
When asked what her job consists of, Monjama replies candidly: "I go and see the recovering patients, and spend my time with the survivors, telling my story and listening to theirs."
The Lakka treatment centre is expected to employ another two "councillors" in the coming weeks – the survivors are currently in their 60-day recovery period – but Mr Rolla anticipates more will be taken on to help assist the medical teams at a new 100-bed facility funded by DfID, which opens this Sunday (14 December).
Mr Rolla stresses the importance of employing local survivors as death councillors to fill the gap left by the collapse of the healthcare system in Sierra Leone, and the flagrant lack of mental care.
"The position of these survivors for those bed-ridden patients at this moment is crucial," Mr Rolla adds, explaining dealing with stigma could also help stop families and patients hiding symptoms and not being treated, resulting in further spread of the disease.
During Monjama's first week at work, the government of Sierra Leone sealed off a sixth district, and more than half of the country's population is already under lockdown.
Elsa Buchanan is a London-based freelance writer, photographer and multimedia producer.You can find out more about her by visiting her website.

© Copyright IBTimes 2023. All rights reserved.