Ebola: Usaid Offers More Than Half a Million Pounds for Best Design for Protective Suit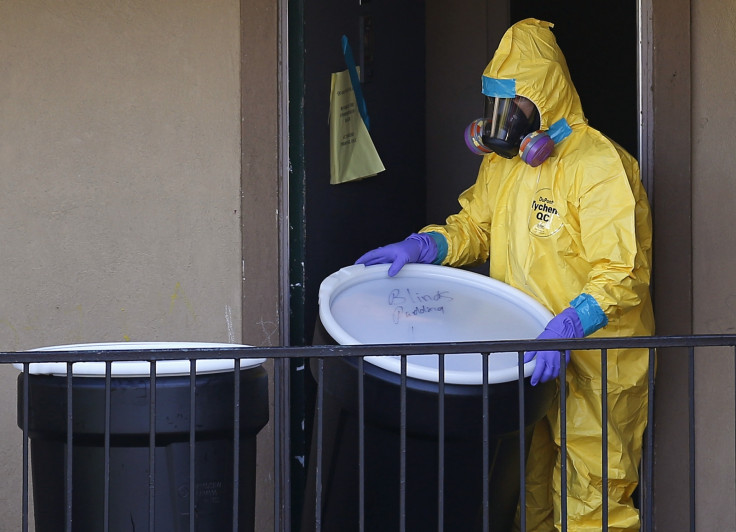 An internet crowdsourcing initiative from the United States Agency for International Development (Usaid) offers more than half a million pounds ($1 million) for the best, novel design for an anti-contamination suit for healthcare workers fighting the Ebola outbreak.
Called the 'Fighting Ebola: A Grand Challenge for Development' the initiative is in response to a growing number of workers getting infected despite extreme protection measures.
The Usaid is also looking for suits that provide face cooling shields given the humid conditions in Africa and suits that are designed to be reusable, reports Mail Online.
Problems with procedures, protective equipment and training for using the equipment are seen as putting health workers at risk, according to the Scientific American.
The Spanish nurse was infected probably when her gloved hand touched her face, proving that the protective gear was inadequate.
Healthcare workers have begun to wear three layers of gloves to protect themselves while at work and while undressing, which is also probably the time when the first American workers from Samaritan Purse are believed to have got infected.
Many of the personal protection suits are usable one-time only and when they are thrown away without proper care, they increase the risk of accidental contamination.
While aprons, trousers, tunic, goggles and protective gloves are sanitised and reused, the rubber boots, hood, cape and face protecting mask are discarded after one-time use.
The items cost around $100. Liberia and Sierra Leone are finding it difficult to provide healthcare officials with the safety equipment required.
Most homes even lack the basic soap and disinfectant to wash hands with.
As the toll from the disease crosses 4000, experts have been stressing on the need for effective healthcare and hygiene as the most important tools in controlling the spread.
How it spreads
The disease is transmitted by the bodily fluids of the infected person. The most infectious fluids are blood, faeces and vomit, although the virus has also been detected in breast milk, urine and semen, according to the World Health Organization.
While saliva and tears may also carry some risk, researchers have not isolated the whole virus from these, WHO reports making transmission by perspiration unclear.
The Ebola virus can also be transmitted indirectly, through contact with contaminated surfaces and objects.
The Ebola virus can live up to six days under ideal conditions outside the body but can be killed even by household bleach. In developed nations with high disinfection protocols, the virus cannot survive for more than 24 hours, say experts.
© Copyright IBTimes 2023. All rights reserved.