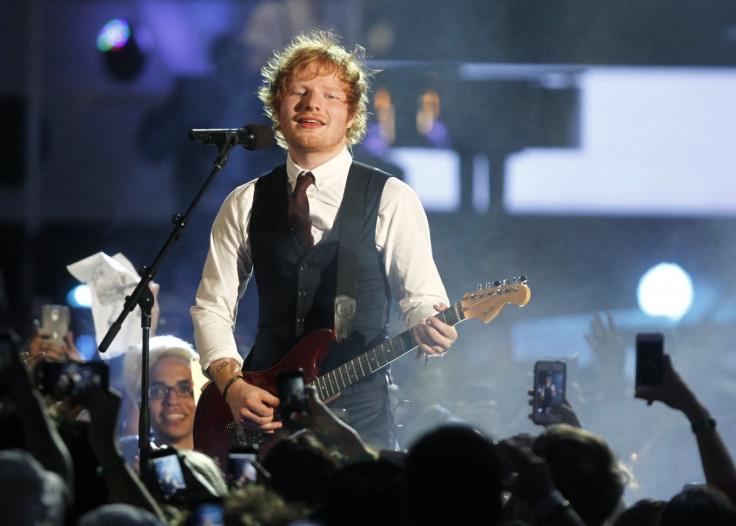 It has become the top wedding song and every couple's theme tune, so it is no surprise that Ed Sheeran's ballad Thinking Out Loud has become a big-earner for the music industry. According to new figures from music streaming service Spotify, he has generated an estimated $20m (£13.1m) towards the music industry, with the single's success credited for giving his revenue a big push.
Sheeran, 24, has plenty to celebrate as the chart-topping song has become the first track to reach 500 million streams on the music service. Based on Spotify's rate-per-stream of $0.007, which is paid out to the music rightholders, Thinking Out Loud has earned the British singer $3.5m while his entire catalogue on the service has amounted to $20m.
Reacting to the news, the Sing hitmaker said: "Chuffed to hear that Thinking Out Loud has had half a billion plays on Spotify. Being the first artist to hit that milestone is amazing. Thanks to all the people who use this as a wedding song, soundtrack to a date, and as a way to woo someone into a Netflix-and-chill situation."
Spotify have released a bevy of figures relating to Sheeran's success on their service – the singer's entire catalogue has been streamed a total of 2.9 billion times placing him just behind Eminem, who holds the record for most plays. More than 19 million people listen to Sheeran's music on Spotify each month, putting him third behind The Weeknd and Calvin Harris.
Listen to Ed Sheeran's Thinking Out Loud:
It is estimated that one in four Spotify users have a Sheeran track on their playlist, while his music features in approximately 38 million playlists on a global scale with Denmark said to be his most popular location.
Following Thinking Out Loud, Sheeran's most popular song on the service is I See Fire, his soundtrack for The Hobbit: The Desolation Of Smaug, which currently has more than 287 million streams, while Don't is in third place with 228 million plays. Sheeran's most recent single, Photograph, has quickly clocked up 207 million streams, while Sing has 196 million.