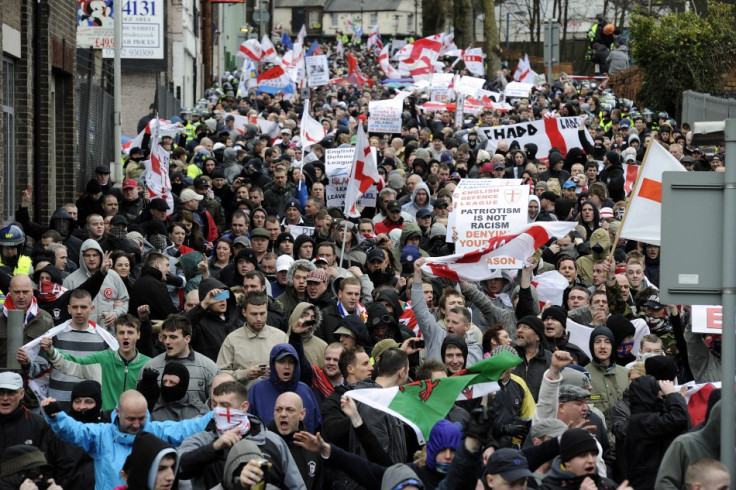 English Defence League members will today be sentenced for violence that broke out at a Birmingham protest held last year in the wake Drummer Lee Rigby's death.
A total of 52 men will be sentenced at a series of court hearings over the coming week, following the submission of guilty pleas or trials, earlier this year.
Birmingham Crown Court will see groups of men taking the stand each day to learn their fate, with today seeing the first group, which includes men from Derbyshire, Leeds and the West Midlands, being sentenced for violent disorder at the July demonstration.
They will be followed tomorrow and next Monday to Thursday by the remaining 47 defendants who have been convicted, following the submission of guilty pleas or trials, earlier in 2014.
The court heard during the prosecutions that a crowd of around 2,000 protesters gathered in Birmingham city centre on 20 July 2013, during which some EDL supporters clashed with counter protest group, Unite Against Fascism.
An appeal to trace those involved in the violence turned into a nationwide search when the case was featured on BBC's Crimewatch programme in January.
Following the televised appeal several suspects came forward and dozens of calls were received in the incident room from people naming those involved.
More than 1,000 extra police officers were deployed across Birmingham city centre on the day of the march, which came after the EDL was accused of stoking racial tension across the country following the murder of Drummer Lee Rigby in Woolwich in May 2013.
In the dock
The following defendants will be sentenced at today's hearing at Birmingham Crown Court:
Ben Crowder, aged 22, of Lumsdale Crescent, Matlock
Jake Hill, aged 32, of Church Street, Stourbridge
James Harrington, aged 30, of Entmere Avenue, Seacroft, Leeds
Adam Beebee, aged 28, of Boundary Rd, Erdington, Birmingham
Lee Joshua, aged 43, of Hill Street, Brierley Hill
Ashley Rowland, aged 25, of Adwick Road, Nesborough, Barsnley
Melvyn Parker, aged 47, of Newtondale Avenue, Mansfield
James Cocks, aged 35, of Binton Close, Redditch
Jason Harris, aged 40, of Lime Street, Eccles, Salford
Steve Cooke, aged 39, of London Road South, Lowestoft