The first funeral has taken place for a victim of the EgyptAir MS804 which came down over the Mediterranean Sea. An air stewardess on the flight, Yara Hani Tawfik, died when the aircraft crashed on Thursday, 19 May, at 2.45am local time whilst travelling from Paris to Cairo.
The jet was just minutes from beginning its descent into the Egyptian capital before losing contact with air traffic controllers. It is presumed that all 66 passengers and crew have died after small amounts of debris, including human remains, clothes and life jackets, were pulled from the water about 180 miles (290km) north of Alexandria.
The investigation into the crash is trying to determine whether the A320 was brought down by terrorism or a technical fault. On 21 May it was reported that smoke had filled the cabin shortly before it disappeared from radar.
Hundreds of family and friends for the 26-year-old gathered at St Mary and St Athanasius Church in Cairo. According to Sky News, her cousin, Nader Medhat, said: "I got the news like everyone, I saw her picture on television, I got shocked but I thought that she did something good, maybe she got promoted.
"Then I discovered about the accident. I couldn't believe what had happened and I still can't."
Another cousin, Merlin Medhat, said: "I couldn't imagine that one day I would feel the grief of losing a cousin in such an accident."
The sea and air search for wreckage will continue as the Egyptian investigation committee said it is still "too early" to make judgements over the reason behind the crash. They conceded that the only sure-fire way of knowing what happened during the flight would be to recover the plane's two black boxes from the sea, which is up to two miles deep in places.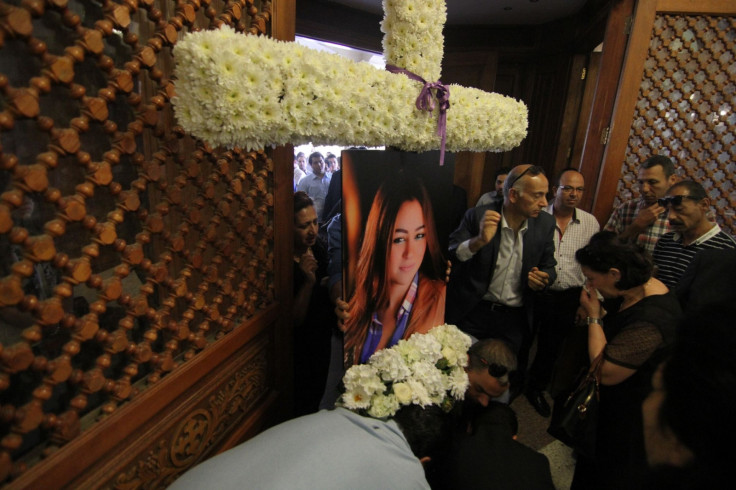 Tawik's funeral comes as a commercial pilot told The Telegraph that the Acars system, which sends short transmissions from the aircraft to receivers on the ground, suggested windows in the right side of the cockpit were blown out by an explosion from inside the plane.
"It looks like the right front and side window were blown out, most probably from inside out," the pilot told the newspaper.
An audio recording available from the flight indicates that nothing was wrong when the plane checked in with air traffic controllers in Zurich, Switzerland before the crash. The audio was taken from LiveATC.net, a website that provides live air traffic control broadcasts from around the world and showed pilots talking to traffic control about two-and-a-half hours before Greek air traffic controllers in Athens lost contact with the plane.