Elon Musk Explains Why A Tommy Gun Was Fired Into Tesla's Cybertruck
Some X users have noted that the video of a Cybertruck covered in bullet marks surfaced after a negative Q3 earnings call.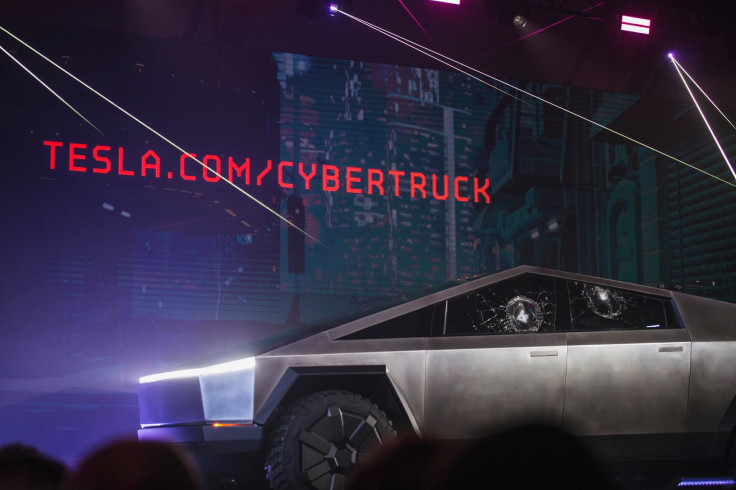 Elon Musk claims a Tommy gun was fired at Tesla's Cybertruck in a bid to test if it was bulletproof. However, critics are still doubting the claim.
The official auto club Tesla Owners of Silicon Valley recently posted a video clip on X (formerly Twitter) showing a pre-release Cybertruck driving along a highway.
The massive silver vehicle appears to be studded with what looks like bullet indentations along the left side. Unsurprisingly, the comments section of the X post was teeming with all sorts of speculations about bulletproof testing within just 10 minutes of the clip being posted.
What do the critics say about the viral video?
YouTuber Farzad Mesbahi reshared the post with the caption: "No bullets penetrated into the passenger compartment." As expected, the Tesla CEO took to the comments section to divulge key details about what the X users were looking at.
"We emptied the entire drum magazine of a Tommy gun into the driver door Al Capone style," the 52-year-old tech mogul noted. Some fans said the clip was an "unbelievably awesome" example of Tesla's innovation.
However, some users weren't convinced of the safety of the car and the authenticity of Musk's claims about the video.
Interestingly, the clip began making the rounds on the social media platform just a day after a gloomy Q3 earnings call in which Musk admitted that Tesla "dug our own grave" with the Cybertruck, which had received a whopping 187,000 pre-orders back in 2019.
To those unaware, a Tommy gun is a type of submachine gun that normally uses a 45-calibre bullet.
Some hawk-eyed X users pointed out that the Cybertruck's windows did not have any testing damage. In line with this, a clip from the 2019 launch of the Cybertruck also surfaced online.
In the old clip, we can see that the window glass of the car unexpectedly shattered in the middle of a demonstration that was supposed to highlight its durability.
At the time, Musk explained that the car's window only shattered after a steel ball was thrown at it. Moreover, he noted that the car's door had also been struck by a sledgehammer earlier in the demonstration. Apparently, that strike "cracked base of glass".
Responding to the Cybertruck window failing on X in 2019, Musk wrote: "Should have done steel ball on the window, *then* sledgehammer the door." Musk recently took Israeli PM Benjamin Netanyahu for a test drive in the yet-to-be-launched Tesla Cybertruck.
© Copyright IBTimes 2023. All rights reserved.